Munchie Mondays: Meatballs
Someone told me I ought to record more of my recipes so here we have it, an Adzuki Blog exclusive
Munchie Mondays!
(imagine that announcement in a big booming voice with lots of reverberation.) Speaking of deep voices, my jeweler just called and got me mixed up with my husband. Good grief!
Anyway, I figured every Monday I'll try to record some sort of Cindy recipe on here. Let's see how well I can keep to schedule....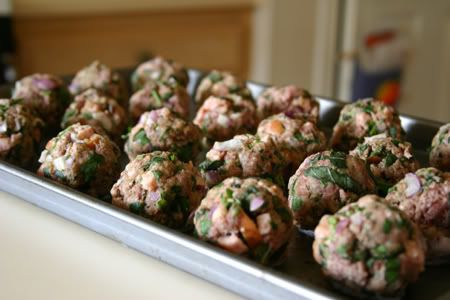 Meatballs-Cindy Style
(as in super calorific)
(makes about 24-30 meatballs)
1 lb ground beef
1 cup of chopped Kielbasa pork sausage
2 slices of bacon chopped coarsely
3/4 cup chopped flat leaf parsely
1/2 cup of chopped chopped fresh basil
1 small onion diced
4 cloves of garlic crushed and chopped
3/4 cup seasoned bread crumbs
1 egg
1 tbs Worcestershire sauce
1 tbs Soy Sauce
1/2 tsp pepper
1/2 tsp nutmeg
1/4 tsp cinnamon
(milk for adjusting consistency)
Preheat oven to 400 degrees.
Dump everything into a bowl. Using hands mix well. If the consistence is too dry, add milk. If it is too wet, add bread crumbs. This isn't an exact science, so there's a lot of room for deviation for the mixtures, so don't worry about perfect measurements.
Form meat mixture into 1 1/2 inch diameter balls. Some people use a small ice cream scoop---me, I'm not that anal, so I just estimate using my hands. Place onto an ungreased baking sheet about 1/2 an inch apart. Bake for a about 20-25 minutes or until center juices are no longer pink.
Since there's a lot of fat from the bacon and sausage, the likelihood of drying out is diminished. Hence, you don't have to rely on copious amounts of sauce to make them moist. The nutmeg, cinnamon and soy sauce give a nice rich and complex flavor. If that's just too weird for you, just omit and use 1 tsp of salt instead.
These things freeze really well too. Just stick the entire baking sheet in the freeze and then transfer the meatballs into freezer bags.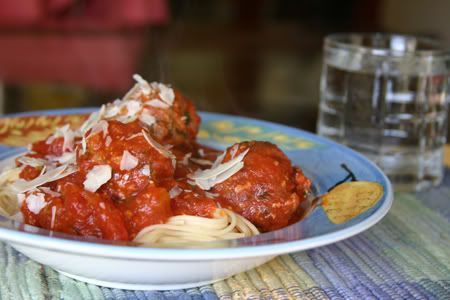 I actually like eating these on top of rice with peanut or fish sauce, but of course these are perfect with spaghetti or as filler for Italian sandwiches. Yummy!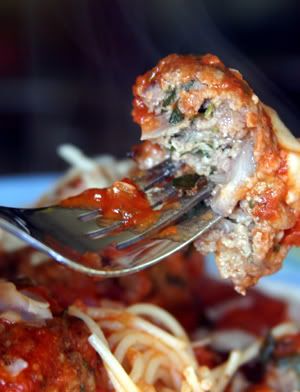 Labels: meatballs, Munchie Mondays, recipe