dance dance dance!
Look at how tall
Sammi
and I look when we're standing next to each other.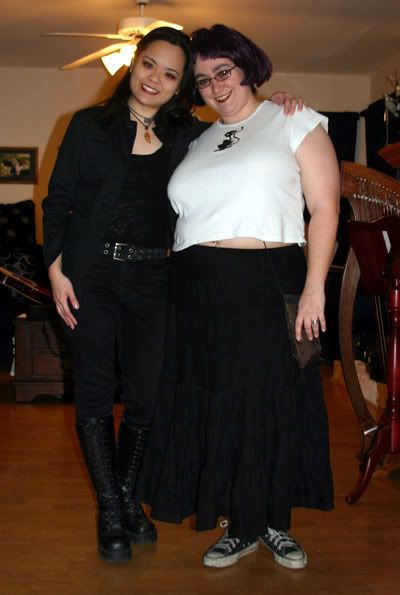 In stark contrast to her and my darlin hubby: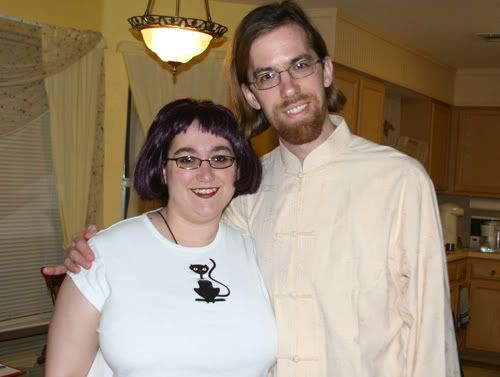 It's still amazes me how she managed to squeeze all of that long beautiful red hair of hers under that wig. Still though, she looks damn cute and I have to say purple is very flattering on her.
The three of us danced the night away (or rather S and I thrashed about while darling hubby bought us drinks) as the bands
Hipnautica
and
Lucid Dementia
performed. It was a great show and the club
Elysium
was packed with lots of beautiful people. One particular beautiful person, the bassist from Hipnautica (Sandy, if you need a reference, he looked exactly like Scott but smaller...), brushed up against my hubby. We were mildly jealous of course.
There was a big burly dude who just sat right up again Sam at one point while she and Trav were taking a break. Literally, he came right up and hunkered down smooshing his hip up against hers. Good grief. Talk about subtle...versus skinny goth boy who was dancing next to me:
Dear Skinny Goth Boy,
I acknowlege that you're nice to look at, but you know what? You lost your chance 5 years ago when I smiled at you while you worked the cash register over at Cheapo's Used CDs. You could have started a conversation then. Inching into my thrash space is not gonna work. In case you didn't notice, I've got a volutous hot chick wearing a purple wig and a cute guy who looks a little like Dave Grohl and John Linnel dancing right next to me. They're with me. You...I can't figure out what the hell you're doing. Your boot is nuzzling next to mine. At least Mr. Boot knows how to make a pass. I'd like to think its a mistake except that everytime I move to the left, Mr. Boot keeps following me and at one point your arms came dangerously close to messing up my eyeliner. Don't smudge my eyeliner, boy I'm warning you. Otherwise I'm gonna go after your lipgloss!

Actually it wasn't that bad...
Now, I was having such a grand ole time that I sort of forgot that I had a ballet audition the next day. Ugh, first of all, I had a hangover when I woke up the next morning. My going away happy hour in my department was earlier that evening and I had drank a few beers and munched on too much queso. At Elysium, I downed a couple more drinks and forgot to drink water. Dancing to the goth bands that played that night included a lot of thrashing and hip action, so my back and neck were killing me. However, by far the worst thing I did to myself though was not taking a break and letting my feet rest.
By the time I arrived at the school for auditions, I discovered much to my horror that my feet had swollen so much that I could barely fit them into my pointe shoes. Even worse, the bottoms of the soles of my feet were completely blistered.
I frantically bandaged up each toe and the balls of my feet with medical tape, ripped out the toes of my tights and smooshed my feet into my shoes. Ouch. I already paid the audition fee, so I figured I'd make the best of it.
If you're wondering, I auditioned for Coppelia. Don't I reek of obnoxiously cute doll? I mean, come on...that's totally me. Just imagine me sitting on that chair wearing a tutu. It screams Cindy. Actually, I just want a small part in the corps, live a villager or something. Or, maybe I can be one of those dolls who just sorta sit on the shelf as scenery.
I didn't do great, but it was fun despite the feet that hurt. In fact, I'm sure I could have done better had I been in a more focused condition, but ah well. No biggie. It's one of those moments where you're encouraged to be a ham. :) One of the gals got really sick though and was throwing up due to not feeling well and being too nervous. I felt really bad for her and couldn't quite concentrate after she left. But, I got through it all and hopefully I'll get a small part for the spring show.
I should add that I am, according to the people at my ballet school, officialy 5'1''. I'm going gloat about that extra inch as much as I can to my other petite friends.