Munchie Mondays: Divine Fudge
I was getting a little stir crazy this morning though and decided to make some fudge. I didn't quite have the items listed so improvised and hot damn, it came out yummy! In fact, I think my version is denser and chewier than regular fudge. I imagine it would be particularly decadent on brownies or chocolate cake. It would certainly work as a pie crust glaze for coconut cream pie (which I made yesterday...crust and all).
Here it is...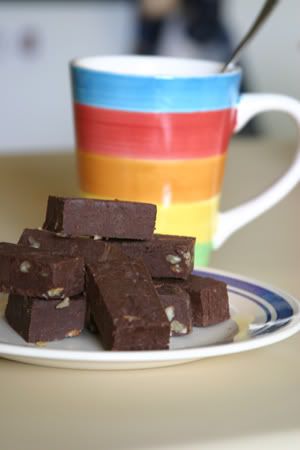 Cindy's Divine Fudge
1 can of sweetened condensed milk
1 cup of semi sweet chocolate chips
1 cup of milk chocolate chips
1 cup of Ghiradelli bitter baking coco (unsweetened)
1/2 tsp of salt
1/2 cup of chopped pecans
Melt the condensed milk, chocolate chips, baking coco and salt over low heat in a heavy sauce pan stirring frequently. When thoroughly mixed and melted, stir in nuts. Pour into wax paper lined 8x8 pan. Spray Pam or butter a sheet of plastic wrap and smooth over fudge pressing down so that it forms an even layer on the bottom of pan. Place in refrigerator (or stick it outside LOL) for 2 hours or until set. When set, cut into squares and store in refrigerator. Easy!
I was up all last night working on
Podcast
#9. I almost did an all industrial podcast, but actually got tired of the music after 20 minutes. This is a definite sign that I am starting to get old.
There are patches of ice on our front lawn and there's definitely frozen rain coming down. All 3 cats are sleeping on my bed which never happens. I suspect they're cold (downstairs is rather drafty since the floors aren't carpeted). I wonder if UT will be closed tomorrow due to the ice storm? That would be kind nice to have another day off especially since we've got tons of food at home. :)
Labels: fudge, ice storm, Munchie Mondays, recipe