SubNatural: Message
This post about
subNatural
(a new favorite band of mine in the Austin goth scene), was initially going to be merely a CD review and then I had the wonderful opportunity of catching these guys live with co-writer
Sammi
at
Elysium
a few weeks ago. I have to say, it was a fucking amazing concert.
Front man and songwriter,
RitchN
, is a beguiling inscrutable creature. From his myspace are these words:
I wake up and find myself wanting to work on music before I eat...
and a glance at his
blog
indicates someone who is completely and utterly dedicated to music in every which way possible.
Sky from the group Hipnautica once said of Ritch "He has got to be one of the most prolific musicians I have ever met," which doesn't surprise me one bit considering Ritch has admitted to having hours upon hours of unfinished songs sitting on his hard drive, has collaborated with multiple musicians in Austin and shared the stage with artists around the world.
On stage he's a ball of energy residing behind dark glasses, eyeliner and shaggy blonde hair belting out meaningful lyrics with his deep voice. Spoken word/rant pieces are done with eerie intensity and gets one's heart racing as he plots on (think of the
through every forest, above the trees. Within my stomach, scraped off my knees....
part in "Closer" when Trent does this). Bookended by his equally competent and talented band mates, bassist Nick Grubbs, guitarist Stephen Van Pelt, keyboardist Jim Dub and the phenomenal Riggz Wade on drums (perhaps one of the best drummers in Austin, to be honest), subNatural as a whole makes a mighty fine looking rock group. Collectively, they make one's adrenaline levels go off the charts and the music itself is just darn good---no two songs on the set list I heard sounded alike and these guys command the attention of everyone in the room. Apparently, they won the last "Battle of the Bands" competition at the Red Eye Fly even though the
site
hasn't been updated yet.
Aggressive, visceral and yet emotive is how I describe these guys on stage. The sheer energy alone that these guys exude is enough reason to experience them live. They're on the harder side of electronica yet still very lyrical and accessible. I normally describe them as the harder meaner version of
CTRL
. Check em out.
Listen to:
"Omnipresence"
"Unlucky"
Visit:
subNatural's Myspace
Reverb Nation Profile
Ritch's Solo Project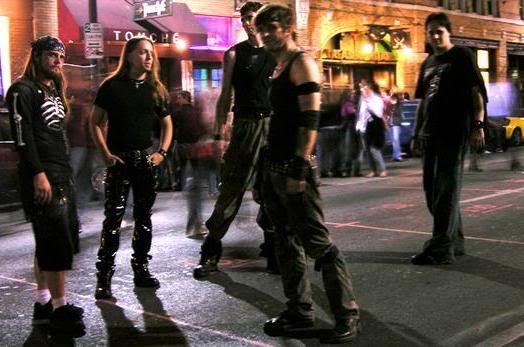 (all photography in this post by
Heather Evans Photography
)
Labels: electronica, elysium, goth rock, Industrial, Jim Dub, Message, Nick Grubbs, Riggz Wade, ritchN, Stephen VanPelt, subNatural