Munchie Mondays: Anise Lemon Thyme Sables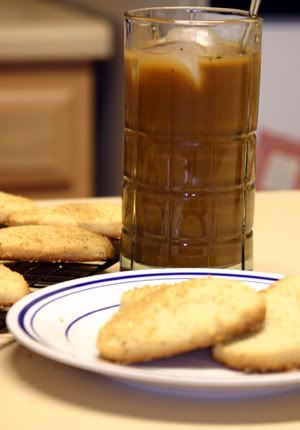 This recipe came about during a rant session one day when Sammi and I hanging out. Cookies just seemed to be in order and I realized I had a bottle of pure
anise
extract that just *had* to be used somehow.
I love the smell and taste of liquorice, but my husband nearly gags when he gets a whiff of it, so needless to say it's been a long time since I've made any sort of anise cookie. As a weird side note, I learned off of wikipedia that anise extract can be added to fishing bait to lure fish. Considering T doesn't like fish either, maybe there's a connection? I have no idea.
Anyway, when I was pondering what type of cookie to make (Oatmeal peanut butter being the 2nd choice), Miss S squealed with "Ooooooh anise!" So yeah, this recipe was born in my kitchen from a happy discovery that someone else actually like anise and that I could finally bake cookies using this pungent recipe again. It's adapted from a low-fat recipe for crunchy anise cinnamon crips. You know how I feel about anything low-fat (evil, I say!), so I adulterated and modified it a good bit and thus came my new favorite cookie.
Anise Lemon Thyme Sables
about 30 cookies
2 cups of flour
1/2 tsp of baking powder
1/4 tsp salt
1/2 cup of shortening
1/3 cup of butter softened
3/4 cup of sugar
1 large egg
one egg yolk
1 1/2 tsp of anise extract (seeds can be used as well)
1 tsp grated lemon zest
1 tsp grated lime zest
1/2 tsp of dried thyme
1 tbs of Turbinado/raw sugar for decoration (optional)
Oven temperature is 375 degrees Fahrenheit
In a separate bowl, combine flour, baking powder, salt and thyme until well mixed. Set aside.
Cream the softened butter and shortening with the sugar. Add eggs, anise extract and zest. Beat until fluffy. Slowly mix in the flour to form a stiff by pliable dough.
Gather the dough and form a log atop a piece of wax paper and roll up, twisting the ends so that dough doesn't escape. I like to shape mine into a triangle so that it doesn't roll away but it doesn't matter. In fact, I suspect these would be fine as drop cookies and baked straight away. However, I like making my sables as either sliced or cut out cookies.
Anyway, put into freeze for 30 minutes or until dough firms up. Meanwhile heat oven.
When firm, slice into 1/4 pieces using a sharp knife.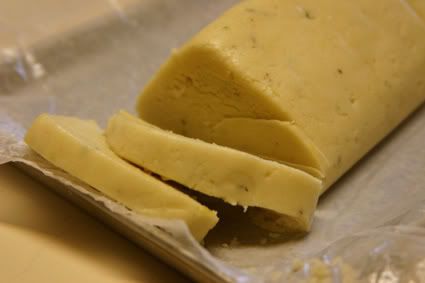 Since these are sliced cookies, they shouldn't spread much (if they do, next time you make the dough, add 1/8th to a 1/4 cup of flour and see if it fixes it). Arrange fairly close together on a cookie sheet.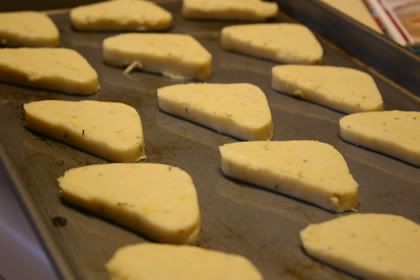 If you like, sprinkle raw sugar on top prior to baking (Sammi helped out with this section because it was too dang hard to photograph myself while sprinkling sugar at the same time).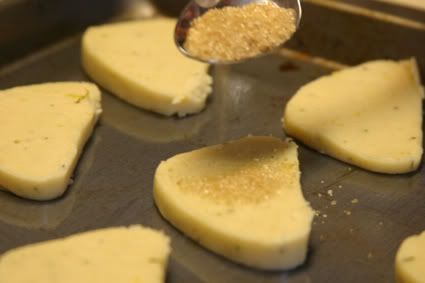 Bake for roughly 10-12 minutes or until edges turn golden brown. Baking time will depend on how thin the cookies were sliced and also the dough temperature. I think we baked this batch for 12 minutes. When done, immediately remove from cookie sheet and allow to cool in a rack.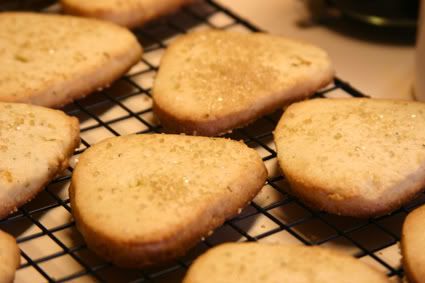 Using a mixer could probably make a lighter cookie. I hand mixed these and they still came out scrumptious---soft delicate crumb with a crunchy exterior that melts in your mouth. The thyme, lemon and anise all compliment each other and no one flavor is predominant. They smell divine too, of course. I think I finished off 6 of them in one sitting.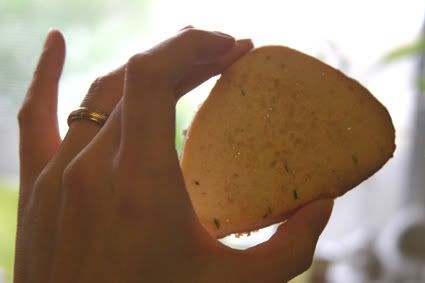 They go fabulous with milk or tea and good conversation.
Labels: anise, cookies, lemon, Munchie Mondays, recipe, sammi