Munchie Mondays: Gazpacho Cindy Style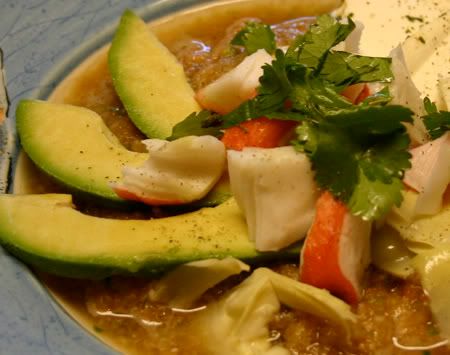 People walk around in shorts and flip flops about 75% of the year here in Austin, TX due to the heat. Gazpacho is a nice cold soup perfect for the upcoming summer weather and incredibly easy to make. There are a gazillion variations on this traditional Tuscan soup and the ingredients seem to be fairly flexible. For the most part, a basic gazpacho contains tomatoes, bell peppers, onion and usually cucumber. The liquid you cut it with can either be dry wine, chicken broth, vegetable broth, lemon juice or water.
My version has tons of toppings to make it a full meal. Feel free to be as creative as you want on your toppings. I've seen things are basic as croutons and bacon to decadent items like shaved truffles and caviar.
Gazpacho Cindy Style
4 to 6 servings
Soup:
1 large cucumber
1 can of peeled tomatoes + juice
1 medium tomato
1 green bell pepper
1 small red or white onion
2-3 cloves of crushed garlic
2 tbs chopped fresh basil
2 tbs red wine vinegar
1/2 cup of cold water
juice of 1 lime or lemon
1/3 cup of bread crumbs (optional)
salt and pepper to taste
Toppings:
marinated artichoke hearts
chopped crab meat (imitation is fine)
1 large avocado sliced
fresh mozzarella medallions or pear sized balls
chopped cilantro
lime or lemon juice
fresh ground pepper
olive oil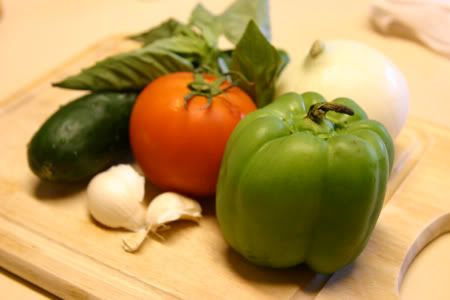 Roughly chop all soup ingredients (except for bread crumbs) and place into blender. Pulse until finely chopped. How fine is up to you, but I like small chunks in my soup. Place into large bowl and stir in bread crumbs. This makes for a thicker heartier soup.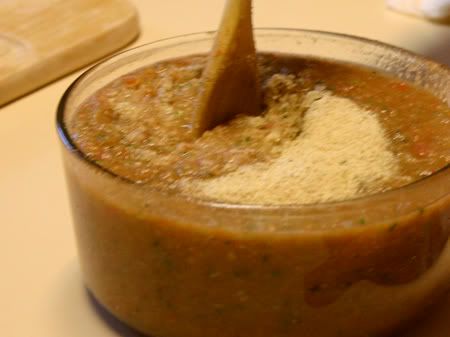 Place bowl in refrigerator and let chill for 1 to 2 hours. Frankly, the soup tastes fine a room temperature, but chilled is the traditional way to serve it. Till then, chop toppings of your choice and set aside.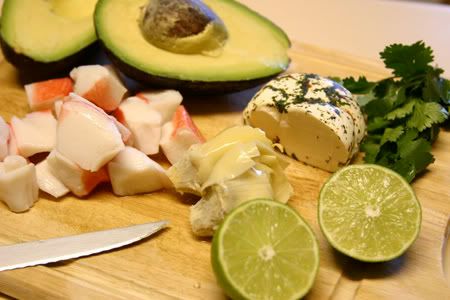 Divide out portions and place toppings onto soup. Drizzle with a little olive oil, black pepper and lime juice and you're good to go. It's surprisingly filling, but goes really well with poached fish. I think the soup keeps fine for a couple of days and it's easy to imagine that the flavor actually improves with time. Viola! Super easy!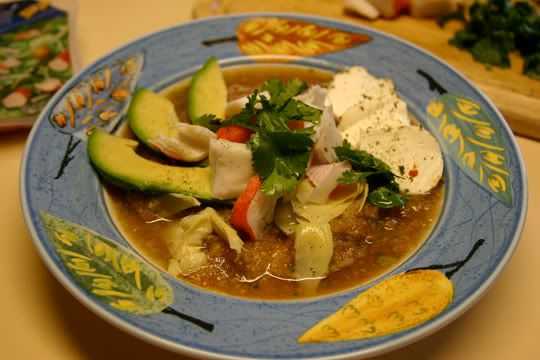 Labels: gazpacho, Munchie Mondays, recipe