Munchie Mondays: Carrot Beet Salad
Drat, this was probably the hardest finished food item I've ever tried to photograph!
Believe me, this fresh and gorgeous dish does not look like innards as my picture suggests: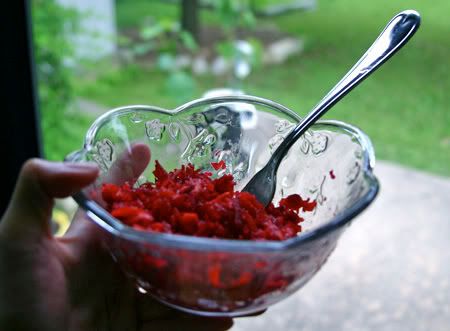 Think more along the lines of rich deep fuschia red and bright happy orange intermingling with one another in a bowl of tangy succulent sauce. The mouth feel is just fantastic--the crunchiness of the raw beets and carrots is quite refreshing.
I just had to include a gratuitous stock photo from alaskagiant.com in order to make this page more enticing to look at. Sheesh! Just try the salad out, will ya?
Given that I don't have a decent Cuisinart blender, I did all the hand grating by hand with a cheese grater. My forearms is killing me. However, this salad was rewarding enough for the labor involved.
You can julienne them instead to make a crunchier salad if so desired.
Cindy's Beet and Carrot Salad
Serves 2
3 medium carrots peeled and grated
2 medium beets peeled and grated
1 garlic clove crushed
1 tbs of olive oil (or more to taste)
1 tsp of salt
pinch of pepper
Juice of 1 lemon
Mix all ingredients into a bowl and let stand at room temperature for at least 20 minutes to allow all flavors to mingle. Then serve. Easy eh?
Some people like this salad cold. I happen to think it tastes better at room temperature. Some also don't care much for the garlic. If that's the case, just omit and the salad tastes just fine. It's important to use the freshest possible beets and carrots around because these are not cooked. Look for firm roots with attached greens that are vibrant and healthy looking.
I wouldn't keep this salad for more than a day since it will get soggy over time as more of the olive oil lemon juice mixture gets absorbed.
Labels: Munchie Mondays, recipe, root vegetables, salad