feeling like jello and wishlist items
I took 3 hours of class this evening because I didn't want to waste classes. Crazy me! I suspect I'm really going to feel major pain by tomorrow.
I have one tentative theremin showing booked. I'm excited but guarded. One album where I've already cut a couple of tracks as a guest artist. One other album that I am supposed to cut tracks for. *crosses fingers* My little musical goal of being something more than a flautist and baroque singer is starting to happen. I WILL get Bernadette in the spotlight more, damnit, even if it means I'm always going to be stuck with a quasi Goth wardrobe for the rest of my life (hey, I'd never give up the boots anyway).
Speaking of which, I have no idea what to wear on Friday. My sewing machine broke so it isn't like I'd be able to whip up something. I'm trying to get Sammi to go with me. It's been ages since I've had a buddy who was willing to not only dress up but give it her all on the dance floor with me. Plus, look at how cute we are: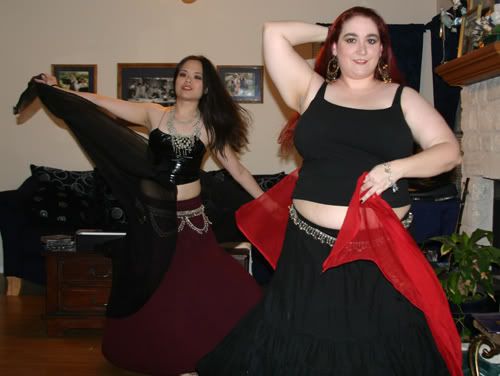 I love this pic of Sammi: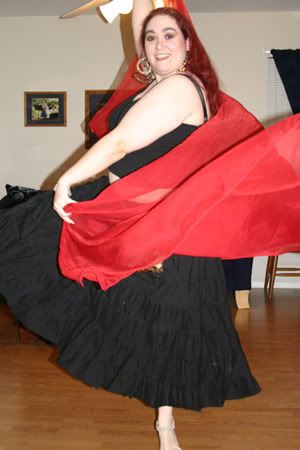 ***
As a random aside, I find myself wanting the following things. Geeze, I would fail miserably as a Bhuddist especially since these are all material items:
-Coffee Grinder
-New sewing machine
-Set of distortion pedals for Bernadette
-pre amplifier to record Bernadette with
-nicer microphone
-More bookshelves in the house
-red cusion cut spinel (or a large affordable piece of rough which I can cut one out of)
-really cute orange or white kitten
- a big ole cheese steak sandwich would be really good right about now as well :)
****
Work is going well right now. It feels really weird working on things I actually enjoy. Furthermore, there are things that are important to me and to others. Whenever I talk about my work now, I get the response of "how cool" or "what a useful tool!" or "my prof uses that." Hearing all that makes me want to over perform and deliver the best possible product possible.
It's so strange realizing that because as a theoretical math major, I never had a need for application or use (although to be honest, all math is eventually applicable in some way shape or form). In fact, I have mild disdain for those who only appreciate applicable math. Nothing against statisticians and actuaries of course because what they do is freaking hard. It's just that in college, it was often the statisticians and actuaries who tended to do really bad in classes like topology, real analysis, even vector calc. I often wondered if they turned their noises up at theoretical math simply because their brains weren't wired to do so.
The sheer beauty of the subject itself was enough to inspire me. It's odd that now, all these years later I work in a field where everything I make
is
an application. I just pray I never forget to see the beauty in things that don't necessarily have a use...like a red cushion cut spinel. :)