Munchie Mondays: Coconut Cream Pie
Oooh how I love coconut cream pie. My personal favorite is the one that the Hoover's restaurant in Austin, TX makes. The entire place is an advocate for clogging arteries (southern soul food) and all of it is damn good. I can't promise mine is anywhere as good, but it's close!
What I like about this version is that the custard part is denser than most coconut cream pies. It has a similar consistency to buttermilk pie, in fact. Furthermore, there isn't this business of whisking hot boiling cream over the stove. I've thrown out my back and shoulder trying to get lumps out and frankly, it just isn't worth the effort in my opinion! Who wants to eat pie when you're exhausted? You simply mix the custard portion in a bowl and bake in this version.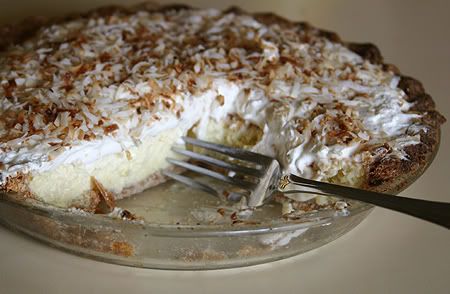 Coconut Cream Pie
1 prepared
pie crust
fitted into a pie pan, edges fluted.
Filling:
3/4 cup of toasted coconut flakes
4 eggs plus one egg yolk
1 12 oz can of condensed milk
1/2 cup of coconut milk
1/3 cup of heavy whipping cream
1 tsp of vanilla
1 dash of salt
for topping:
3/4 cup of heavy whipping cream
2 tbs powdered sugar
1/2 tsp of vanilla
1/4 cup of toasted coconut flakes
Preheat oven to 400 degrees
toast coconut flakes in a frying pan over low heat until flakes turn golden brown
Stick large bowl in the freezer to use for whipped topping later
After preparing pie crust, press 3/4 cup of toasted coconut flakes into the bottom and sides of crust. This isn't an exact science...just squish them in there and don't worry about an exact measurement.
In a large bowl, dump filling ingredients and with a wire whisk, combine until smooth. Pour into pie crust and stick into oven. Bake at 400 degrees for 15 minutes. Afterwards, reduce to 350 degrees. At this point, you may want to cover edges of crust with foil to prevent over-browning (as you can tell in my pic, I didn't bother). Bake an additional 40-45 minutes or until pie is set. Poke center with a tooth pick to check.
When pie is done, let it cool on a wire wrack for 30 minutes then transfer to the refrigerator and let it cool completely (about 2 to 3 hours). When the custard has cooled completely, it is time to prepare the whipped topping.
Take out bowl from freezer (I like to use a glass bowl) and place the whipped cream, sugar and vanilla extract and beat on high until cream is whipped and fluffy. Spoon onto the top of the pie forming and even domed mound and sprinkle toasted coconut on top. It's ready to eat...straight out of the pan if you're impatient like me.
Labels: coconut cream pie, Munchie Mondays, recipe