stuffing too!
Oh how could I possibly have forgotten the stuffing in my menu below? My stuffing is stuffed, let me tell ya:
1 small onion diced
4 celery stalks diced
1 pack of ground pork sausage (like Jimmy Dean)
1 large pack cornbread stuffing
1 box of Uncle Ben's wild rice (oh yeah...msg heaven here)
1 stick of butter
1 cup chopped pecans
1 cup of dried cranberries
6 cans of chicken broth
fry pork sausage until brown and crumbly, remove from pan and fry diced onion and celery in pork fat. Transfer to a large glass bowl. Meanwhile, perpare wild rice with 1 can of chicken broth. When the rice is done, toss with the pork sausage. Toss in the chopped pecans and dried cranberries while boiling the rest of the chicken broth with butter added. Dump cornbread stuffing into same bowl. When liquids are boiling, pour on top. Toss everything until stuffing is moist.
Jam it up the bird's ass right before you're gonna bake the dish, and you're good to go. This makes a lot of stuffing (so much that sometimes it take two people to assemble as you can see in the pic of my bro and I), so normally I place the contents into a casserole dish, cover it and let it heat in the oven.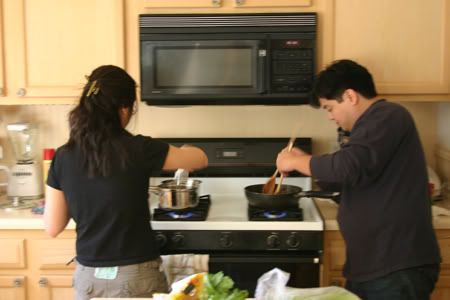 ***
On an unrelated note, Travis is home. Yay! He bought me a ski cap that's pink and says "I love DC." It's cute, but too bad it never gets cold here!
***
Because so many people were out in ballet, they combined technique classes last night, so I was stuck in the crazy hard Russian woman's class. You know the type--she's just made out of sinews and nothing else. When your toes are bleeding she scoffs with:
In Russia, when we trained, we had no water. We drank our blood!
Or something to that effect. :P
Oy. Class was so hard that I started getting a headache trying to process all the combinations and much of the time I found myself thiking
I didn't know my leg was supposed to be able to do that...
So instead of feeling refreshed from working out, I just felt utterly worn out.
Still, I'd take crazy hard Russian woman over evil
Disney loving ballet teacher
any day.