Happy Halloween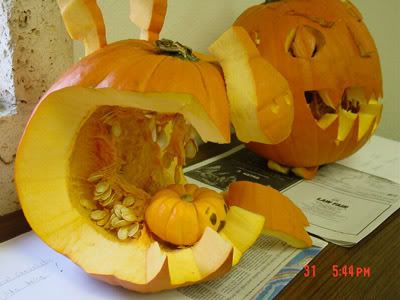 (Cannibal Pumpkin by one of my former students,
Jonathan Williams
)
Ah
Halloween!
The first time I distinctly remember ever getting indigestion was when I was 12 after a binge session with my honking bag of candy. I also used to be one of those kids who found immense joy categorizing the loot by type, then flavor or shape, brand, color, etc. Of course, I'd eat those pieces that didn't fit into any predefined category first...yeah, I was weird.
I am utterly impressed that
Tim Young
from Contrast Podcast managed to get
CP #31
out on the 31st AND have it be a spooky theme. I had intended to get the next
Adzuki Bean Stash Podcast
out by today, but I'm having techical difficulties with the new version of
EZArchive
. I keep getting script errors when I try to create a link. Sniffle.
But never fear Tim and the rest of his MP3 bloggers with the CP crew are here to
rescue your ears! I'm very happy that Voltaire is in the mix.
Please do check it out:
CP31: Music to watch ghouls by
Thanks to
Fil from Pogoagogo
for the theme. The intro alone makes it worthwhile and I'm glad I'm not the only one who thinks
Robert Smith
and
Elizabeth Taylor
look a little too much like each other these days.
Some songs to get you in the mood:
"When You're Evil"
Voltaire
"Devil and My Family"
Ghost Mice
"Ghost"
Machine Made Pleasure
Happy Halloween everybody!