Munchie Mondays: Pumpkin Sage Alfredo Sauce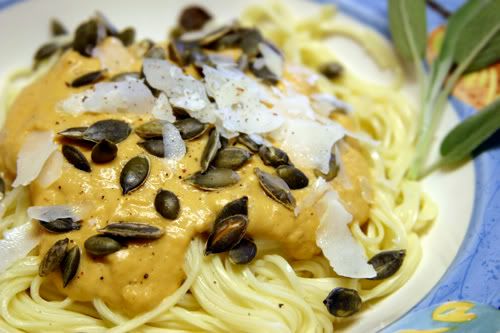 A cold front actually blew in Texas last night. It's a frigid 58 degrees now! (*note the sarcasm*) Still, 58 degrees feels mighty nice after weeks of temperatures in the 90's. It's freaking October. It's supposed to be Fall, so frankly I'm glad fall is
finally
here.
And course that means it is pumpkin time!
Instead of posting something sweet, I decided to go the savory route this week with my version of a pumpkin sage Alfredo sauce that goes well with pasta, atop poultry or even over Eggs Benedict.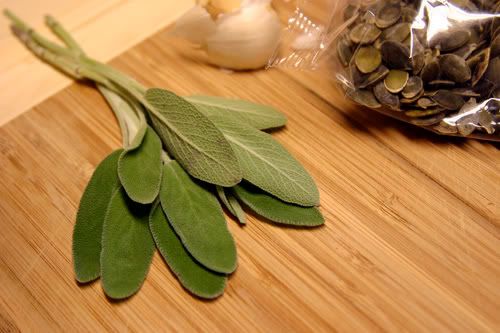 Sage goes really well with pumpkin and chicken. Not surprisingly chicken goes well with pumpkin too.... I will admit I don't cook with sage much because, it's uh...well,
weird
looking. Spongy and pungent. Silvery. It's kinda like the arrogant cousin of rosemary or something, but I digress. If you can't find fresh sage, dried sage works just fine as well.
Pasta with Pumpkin Sage Alfredo Sauce
feeds 2 to 3
3 cups of prepared pasta
1/4 cup of pumpkin seeds toasted
1/2 cup of heavy cream or half and half
1/2 cup of pumpkin puree
1/4 cup of grated Parmesan cheese
2 tbs of butter
1 tbs of fresh chopped sage (or 1 tsp of dried sage)
2 cloves garlic crushed
pinch of nutmeg (optional)
Salt and pepper to taste
shaved Parmesan or feta for garnish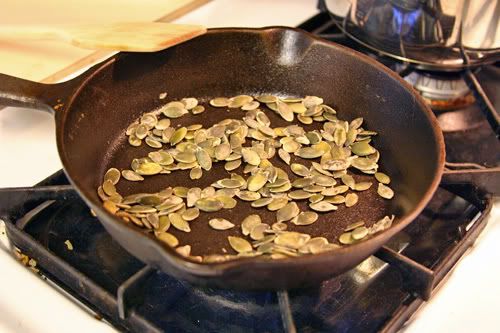 While pasta is cooking, toast shelled pumpkin seeds in a pan until brown and aromatic. You'll actually hear them pop and crackle as they toast.
In a heavy pan add cream, garlic, pumpkin puree, and butter. Whisk over medium heat until butter is melted and there are no pumpkin lumps. Turn off heat and add sage, nutmeg and Parmesan cheese. Mix thoroughly. Season with salt and pepper.
Arrange pasta on plate. Pour sauce on top. Garnish with toasted pumpkin seeds, cheese and fresh ground pepper.
Also goes really well with grilled chicken or bacon crumbles. I'm sure slivered almonds would work for the nuts as well. Yummy!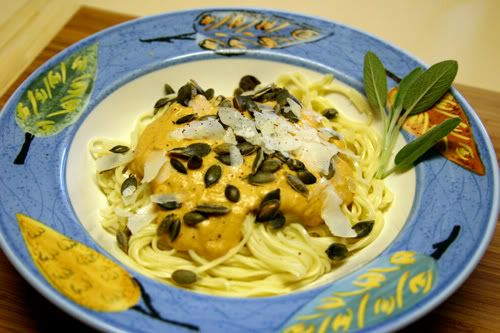 Labels: Munchie Mondays, pasta, pumpkin, recipe