Munchie Mondays: Cindy's Spinach Salad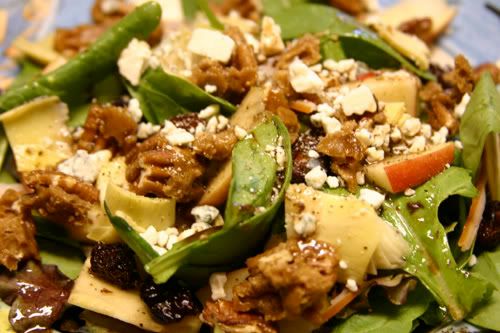 As Claudia once pointed out, I put pecans into everything and it's true. Pecans grow natively around here and I have pleasant memories from childhood picking up the mature nuts that had fallen off of the bare trees around our house during the fall. I give kudos to my mom for coming up with an activity to keep her kids quiet as cracking these fruits and harvesting the meat was quite a challenge for my brother and I as it required some manual dexterity and concentration.
Another thing I attribute to Fall are tree ripe apples from Ithaca, NY (where I met my hubby.) I spent a short amount of time up there while in graduate school and I still recall being able to buy all sorts of these fragrant beauties by the bucket full on road side stands. The apples I'd seen were smallish, about the size of a lemon but packed with tons of flavor and crunch. You really don't see apples down here like those.
Anyway, as this is technically the first day of Fall, we might as well celebrate by making a salad featuring these fall fruits!
Cindy's Spinach Salad
feeds 2
3/4 cup of shelled pecans
1 tbs of butter
3/4 cup of brown sugar
1/4 cup of dried tart cherries, cranberries or raisins
1/4 cup of crumbled blue cheese
2-3 artichoke hearts roughly chopped
1 small apple (Pink Lady is my favorite)
4 cups of baby spinach
oil and vinegar, salt and pepper for dressing
What makes this salad is the candided pecans. Don't get to bent out of shape with "hard ball" "soft ball" stages with this candy mixture. The longer you cook it, the more hard caramel like it'll be. The shorter time, the more it'll be like a praline. They both tasted good...You just don't want to over cook the mixture!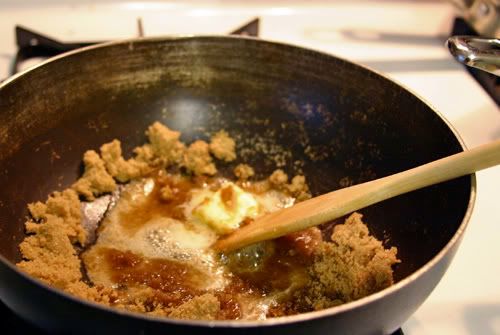 Melt butter and sugar in a heavy skillet over medium heat.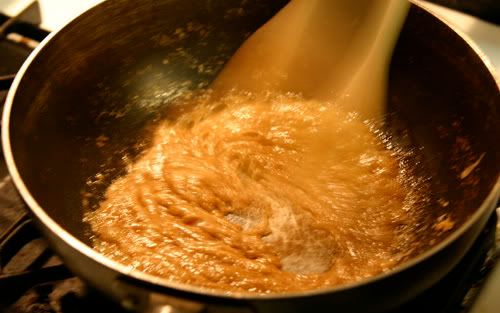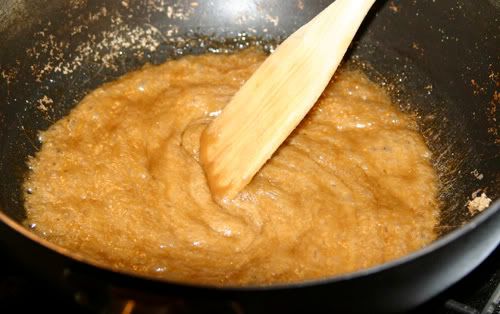 Beat vigorously until fluffy and almost frothy seeming. The butter and sugar should be well incorporated. This is when I add the pecans. Again, stir vigorously until the pecans are well coated.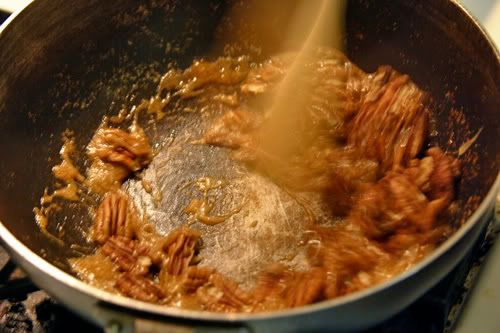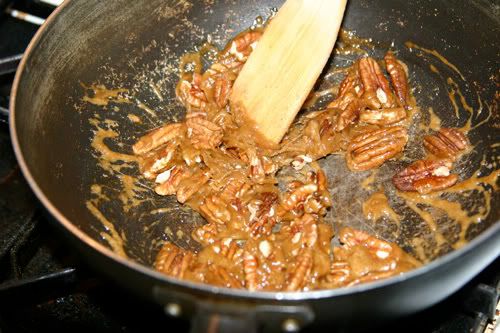 Dump pecan candies onto wax paper to cool being careful to try to separate the pieces as much as you can.
Please don't touch the caramel with your bare hands as you're doing this.
As the pecans are cooling, slice apple into thin wedges or cube and arrange salad ingredients between two plates.
Dress with candied pecans, salt, pepper, oil and vinegar and you're good to go! You'll probably have more candied pecans than you care to use, but that's okay. Just wrap them up with the waxed paper once cooled and stick in the refrigerator. They'll keep for a couple of weeks.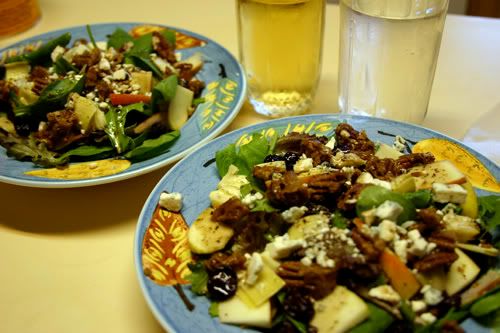 Labels: apples, artichoke hearts, feta, Munchie Mondays, pecans, recipe, salad, spinach