Munchie Mondays: Cindy's Cashew Banana Bread
I know. It's not Monday. But hey, I've got the munchies and actually managed to go grocery shopping a couple of hours ago, so it's all good in the Cindy Household.
JBro's here, so that means we eat well. :) I was going to hold off until Monday to post this recipe, but it came out so good that I just had to share now. It's lovely Sunday brunch fare to me and the cashew butter makes the bread extra dense.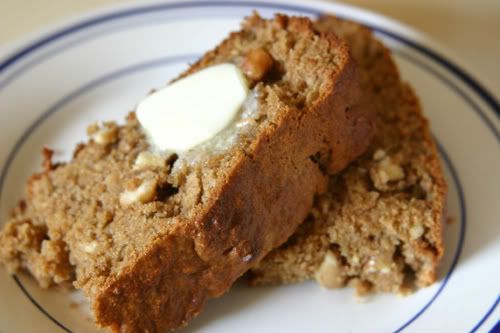 Be sure to use super ripe bananas. Just throw them into the freezer skin and all when they're about to turn and then defrost overnight when you plan on using them. You barely even need to peel them. They bananas just sort fall out of the skins...ewwww I know, but they, they taste great baked!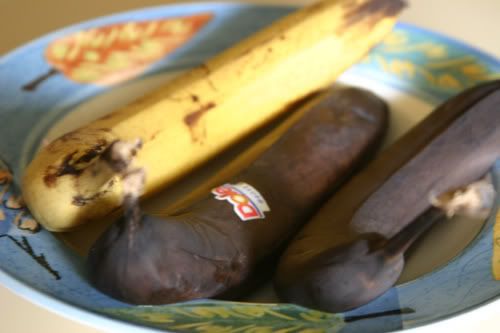 Cindy's Cashew Banana Bread:
1 stick of butter (softened = 1/2 cup)
1/3 cup of cashew butter
1 cup of brown sugar
1 tsp maple extract
3 mushy bananas
2 eggs
2 cups of whole wheat flour
1 tsp salt
1 tsp baking soda
1/2 cup of coarsely chopped cashews
Preheat oven to 350 degrees. Butter an 8x8 baking dish.
Cream butters and sugar in large bowl. Beat in eggs. Mix in mashed banana and maple extract. Gently stir in flour, salt and baking soda until just moistened. Mix in chopped nuts. Spread into baking dish and bake for roughly 45 mintues at 350 degrees or until tooth pick inserted in center comes out clean. The top of the bread should dome up slightly and be golden brown in color.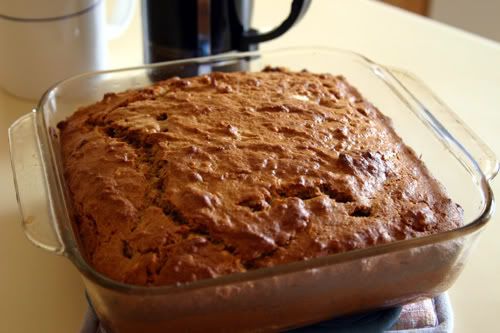 Goes great with chocolate syrup or honey and butter. It's great with a big smathering of Nutella as well. You can definitely substitute peanut butter and peanuts for the cashew parts, but I like the subtle sweetness of cashews! Be sure to store in plastic wrap or an air tight container in the fridge otherwise it'll dry out (due to the whole wheat flour).
Labels: bananas, bread, cashews, Munchie Mondays, recipe