Munchie Mondays: Spiral Pasta with Spinach and Sundried Tomato Alfredo Sauce
This dish is a staple in the Cindy household and I've cooked it for the majority of my friends at one point or another. It's easy, super rich, filling and quick to make. You can add any sort of vegetable you want really. Artichoke hearts, yellow squash, basil, asparagus, fresh tomato and thinly sliced carrots all work well with this sauce.
Spiral Pasta with Spinach and Sun dried Tomato Alfredo Sauce
feeds roughly 2
Two servings of pasta (spiral or shell shapes are best as they hold more sauce)
4 cups of baby spinach
1/3 cup of finely chopped sun dried tomato
1/4 cup of butter
3/4 cup of heavy cream
1/2 cup of grated parmesan cheese
1/4 cup of pecans
1/4 of feta
salt and pepper to taste
Cook pasta according to package directions. While pasta is cooking, stick butter and cream in a heavy pan. On low heat, whisk the melting butter and cream so that it is thoroughly mixed. You're essentially making an Alfredo sauce (and feel free to adjust cream and butter proportions according to your tastes). However, before adding parmesan, add the baby spinach and sun dried tomato and stir gently until the spinach is wilted.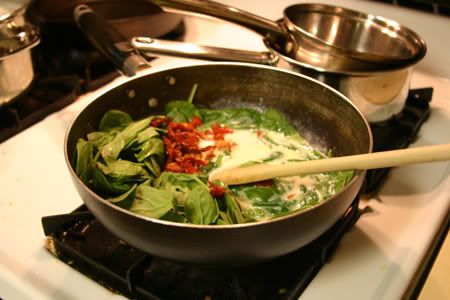 Once spinach is wilted, turn off heat and immediately add the grated cheese. Stir until well incorporated. The sauce should start to thicken as the cheese melts into the cream and butter mixture.
Divided cooked pasta onto two plates and top with sauce mixture. Garnish with pecans and feta. Add salt and fresh ground pepper to taste. Viola! You're done.
Labels: feta, Munchie Mondays, pasta, recipe, spinach, sun dried tomatoes