Bittersweet Christmas
Goddamnit, Wylie. You would have turned 40 on January 3rd. If only you could see all the tears of sadness, frustration and anger pouring out of your friends right now...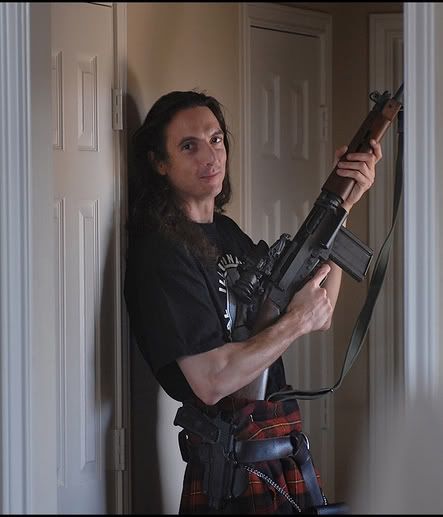 (portrait by
Kyle Cassidy
)
Wylie Erwin Reeves
(from the
Gazette-Enterprise
)
Wylie Erwin Reeves passed away at the age of 39.

He is survived his parents Preston and Lynda Reeves, aunt Paula Speed and husband Arlin, cousins Jeanette Speed, Anita Speed and Kevin Speed.

Wylie was a History Teacher at Navarro High School, he loved teaching and especially teaching the students from Navarro High School.

A memorial service will be held Friday, Dec. 29, 2006 at 11 a.m. at First United Methodist Church. Memorial contributions may be made to Texas Lutheran University.

Memorial tributes may be made online at www.mem.com .

Arrangements are under the direction of Goetz Funeral Home, 713 North Austin Street, Seguin, TX 78155
We're all so emotionally spent--all of us for various reasons....divorces, job crisis, sickness and now another tragic death.
I didn't know Wylie as well as my other friends did, but he was a constant in the social circle I joined more than 10 years ago. My own friends who are hurting so much is what is affecting me most at the moment. I'm just numb to the death itself. Every now and then, I feel a pang of guilt as I ponder how he passed away, contemplate the reasons and count down the number of friends who have died by their own hand. Three this year alone...
I remember his dry wit and his dark humor. I still recall him cuddling comfortably with my friend Wendy when we all went out to hear
Salim Nourallah
perform during Lisa's birthday bash.
They ended their relationship on good terms a while ago, but he was there for her when she was picking up the pieces and starting her life over after her divorce. He helped her find love once more. In her darkest times, he helped her realize she had so much to live for. As Wendy mentioned so poignantly in her writings:
I just wish I could have helped you see those same things in yourself.
She has been handling it really well and bravely, often the one making the phone calls delivering the sad news to loved ones and friends. I heard the news through my friend Bobby who also plays soccer with Travis. Wylie was on the team for a while. I was expecting to see him at Troy's annual New Year's bash affectionately named the "Funeral Party" (where us aging Goths say goodbye to the old year and celebreate the coming of the new one in glammed up decadant garb). I just did not expect an actual funeral this time.
It's a bittersweet Christmas season. Times like this, I realize what wonderful friends I have. I'm lucky to have a supportive husband and very loving and close family. I'm thankful to those around me who helped me out of the dark and difficult times, to help me realize there is so much to live for.
Wherever Wylie is, I hope he's released from whatever pain and suffering he was feeling. I hope he's at peace now.
Labels: Christmas 2006, death, suicide, wylie