Peter Murphy and Trent Reznor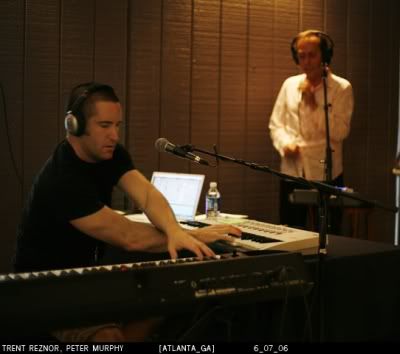 You know how some girls play with each other's hair? This is sorta the same, but with rock stars. The boys are jamming together and if you're lucky enough to be in one of these cities you can catch the sessions live on the radio from 5-5:30pm:
June 6 Washington DC on
DC101
June 23 Boston,MA on
WBCN
July 1 Chicago, IL on
Q101
July 28 Moutain View, CA on
KITS
Course seeing them in concert would be better. Bauhaus and NIN are touring together by the way in case you were wondering. You can find more info at
NIN.com
I've gotten comments ranging from "hot" to "wacky." I personally think this is fantastic. These songs came off of a show that aired on
99X
on Wednesday.
Listen to (right click and save as...EZshare is acting up):
"Head Like a Hole"
"Sanity Assassin"
Love goes out to the
NIN Hotline
and
Echoing the Sound
for these.