Lucid Dementia: The List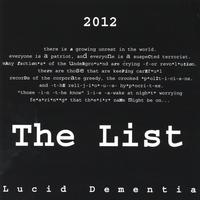 If you wanna get in touch with your nihilistic gothy side,
Lucid Demetia
is a good band to experience if you haven't already. I say
experience
because you really need to see them live to get the full effect (it's all true about the puppet show and I'll leave it at that...) although the music is fantastic on its own. Make sure you turn it up loud. I have a copy of
The List
and it has been on high rotation all year. Combined with
Forever is Never's
A Sad Clown Affair
this makes for a great goth punk listening experience. I'm a little shocked they're not signed yet giving the solid following they have. Lucid Dementia has opened for acts such as
Switchblade Symphony
,
Razed in Black
and
Clan of Xymox
. Plus, get a load of the music awards they've received in Austin for 2004-2005:
-Voted Best Industrial/Goth Band
-Voted 4th Best Metal Band
-Voted 3rd Best Punk Band
-Sheldon Reynolds Voted 2nd Best Record Producer for his work
on "The List"
(*edit* Go
here
for exclusive remixes from
The List
)
Visit:
Official Website
(exclusive tracks)
Lucid Dementia's Myspace
Buy The List from CD Baby