Munchie Mondays: Saag Paneer
As I mentioned in my previous post, I decided to cook Indian for the Book Club luncheon. Most of what I make was Indian
inspired
(some would call it "fusion cuisine" and others would say "bastardized"), however, I stuck to a pretty traditional recipe for Saag Paneer, which is essentially Indian Creamed spinach. What makes the dish fantastic however, are the chunks of home made cheese (the "paneer") that swim in the creamy sauce.
You can buy the cheese pre-made in blocks at any good international grocery, however making your own is pretty easy. I used
this recipe
from the
Mahanandi
blog for the paneer and as promised, it really did turn out delightful. I personally think using lime juice instead of white vinegar makes the paneer taste better, but that's my opinion. To get the consistency firmer and compacted, make it way ahead of time (say the night before). Be sure to press the cheesecloth bag between two plates and add a weight on top (like a dictionary, fat cat, or perhaps a hubby's foot press) to squeeze out excess moisture.
Use tofu and omit the heavy cream for a vegan version
I have my friend Monika to thank for teaching this dish to me back in high school as well as Avani who helped tweak the spices to make it taste more authentic. As alwaysyou can adjust the spices to taste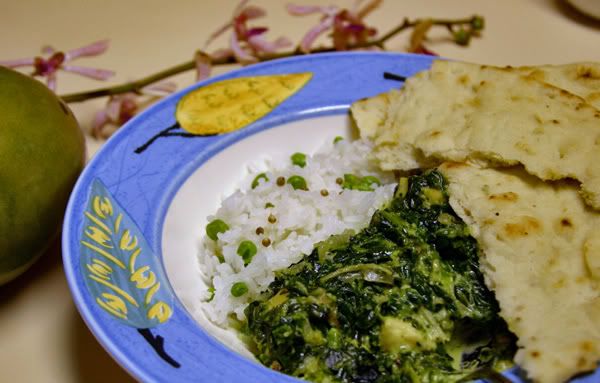 Saag Paneer (Palak Paneer)
feeds about 4-6
1 1/2 cups of prepared paneer
4 tbs of olive oil or ghee
1 small onion finely sliced
2 garlic cloves crushed
1 inch cube of ginger finely grated
1 tbs of garlic salt
1/2 tsp of crushed coriander seeds
1 tsp of turmeric
1 tsp of chili poweder
1/2 tsp of cumin
1/2 tsp of fresh grated pepper
1 lb bag of frozen chopped spinach thawed
1 cup of heavy cream
Heat oil in a heavy skillet. Meanwhile cut paneer up into 1 inch cubes and then fry in oil until golden brown. Remove the paneer and set aside. Fry onion in hot oil until wilted and slightly caramelized. Add garlic, ginger and spices and continue to fry until fragrant. Add chopped spinach and mix thoroughly until spinach is heated through.
Carefully add the heavy cream and paneer chunks and cook on medium heat until thick and creamy (roughly 20 minutes)
Serve with Naan and/or jasmine rice.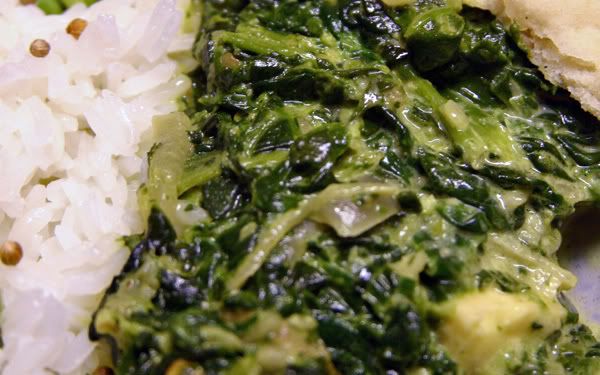 I've had some variants that add chopped tomato to the mixture and that tastes good. Some people also like to use fresh spinach and butter milk. Anyhow, if you try this recipe please tell me how it came out for you and how you'd improve upon it.
Labels: cheese, Munchie Mondays, recipe, Saag Paneer, spinach