Happy Holidays 2007! and the new Speakers
If you're not offended....Merry Christmas!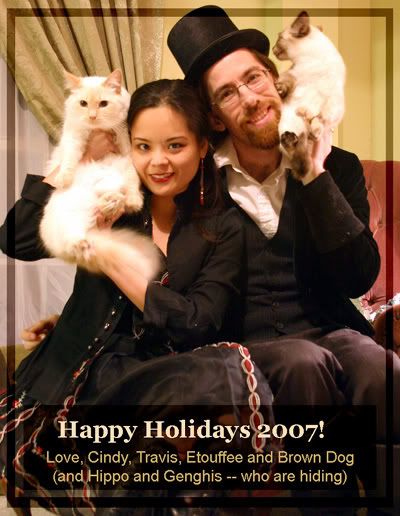 Amazingly, it only took 2 takes to get this photo. Etouffee and Brown Dog are just so easy going!
Now onto the materialistic post. This is the big ticket item we got for ourselves this year:
New Speakers and Sub Woofer
T and I got this for ourselves because the old speakers which we inhereted from my dad died about 4 months back. Let me tell you, I about to shrivel up and die without my music. We found a pair at Fry's on sale and for holiday promo, it came with a sub-woofer. JBro, who came down for the holidays, came over and helped optimize the output (The way I had things initially set up caused the sweet spot to somehow converge near the refrigerator...not bad, for me at least, but certainly not idea for everyone else).
We discovered something amusing though. Being somewhat hasty, T and I just rant into Fry's and purchased the best thing we could afford that sounded good (in the store) without giving much though to the fact that our house is only 2000 sq feet...that is to say we bought speakers which a
weee
bit too powerful. Sure, across a massive electronics warehouse this is fine, but you lug those puppies into the home and we suddenly have club Chang-Fricke' going here. The columns themselves are about my height. What's even funnier though is that if you even turn up the sub-woofer a notch, the floor shakes so much it causes the CD player to skip.
Anyhow, we're fiddling with it still. For classical music it's just okay. Not enough mid range. Josh Groban and Joshua Bell sound somewhat decent although perhaps several hundred feet away up on stage. Trent sounds like he breathing down your neck while The Kings of Convenience and Abra Moore are serenading you on the couch. Benny Bennassi is rumbling inside of you. Hands down the set up is best for dance and techno music at the moment.
My brother and I spent many hours swapping out CDs and listening to much late last night. It was a lovely bonding session. I have a feeling T's ears were driving him mad but hey...they're
new
stereo speakers!