Munchie Mondays: Asian Comfort Food (Peanut Noodles)
This is really quick easy and tasty recipe that packs well for lunches. It's the ultimate in Asian comfort food and I make this disk often for friends who are over my place hanging out.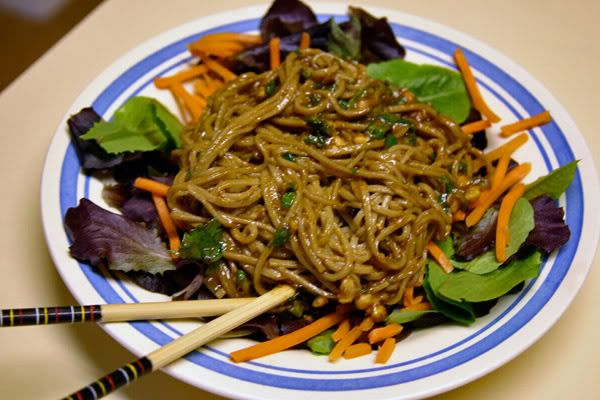 The secret ingredient is
Chinese BBQ Sauce
. That's what the label says and you can find this brand and its brethren at almost any Asian grocery market. I'm not sure if that is a proper translation, but I've included a pic for reference: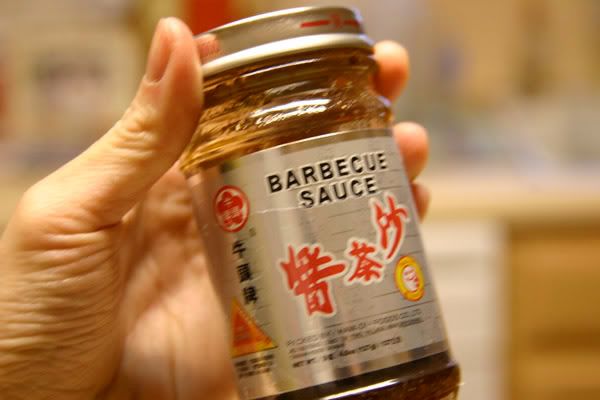 The other ingredient is this hot vinegar based chili sauce that is found often in Vietnamese cooking. Sammi and I call this stuff "Rooster" Sauce. Again, here's a pic for reference: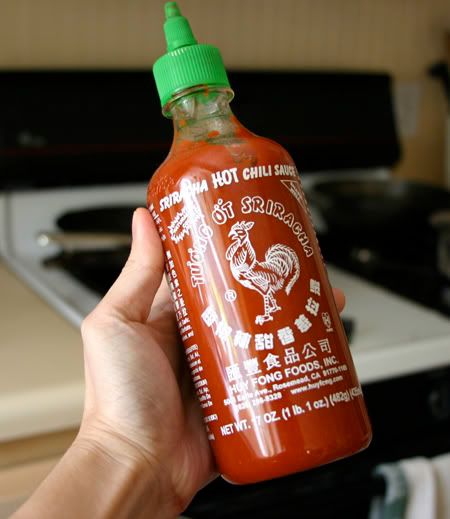 All the measurements are approximate (which is typical in Asian cooking) so you can adjust things to taste.
Asian Comfort Food (Peanut Noodles)
feeds 1 to 2 people
1 bunch of soba or buckwheat noodles
Sauce:
1/4 cup of peanut butter (chunky or smooth matters not)
1 tbs of Chinese BBQ Sauce
1 tsp of "Rooster" Hot Sauce.
1 tbs of Sesame Oil
2 tbs of Soy Sauce
2 tbs of chopped cilantro
2 tbs of chopped basil
Salt and pepper to taste
1 handful of mixed greens for garnish
Bring 6 cups of water to boil, add soba noodles and cook until tender. Meanwhile thoroughly combine sauce ingredients in bowl. When the noodles are done, dump into bowl and toss gently until noodles are well coated. Serve atop greens.
Is there anything easier than that?
Labels: basil, cilantro, Munchie Mondays, pasta, peanuts, recipe