Munchie Mondays: Tomato Basil Mozzarella Salad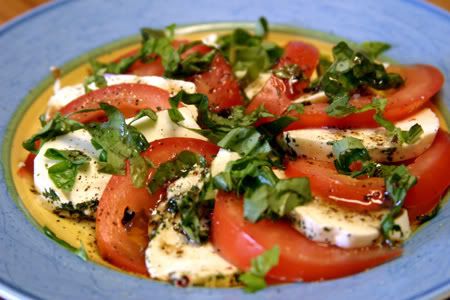 So simple and so yummy. There are so many variations on this salad that I feel silly posting this recipe, but eating it brought so much joy to my taste buds, I just had to post! Right about now tomatoes should be growing out the wazoo. I used market roma tomatoes here, but any good tomato will do. If you don't have any sun dried tomatoes on hand (like today, for me), do without, but the fresh basil is necessary for this fragrant and simple salad. Along side rustic bread and some soup, you've got a complete meal. Be flexible with the ingredient amounts. As long as you have equal parts of cheese and fresh tomato, you're good to go.
Tomato Basil Mozzarella Salad
Serves 2
2 small tomatoes or 1 large tomato sliced
10-12 medallion slices of fresh mozzarella
1/4 cup of chopped fresh basil
1/4 cup of chopped sun dried tomato (optional)
Salt and pepper to taste
dressing:
2 tbs extra virgin olive oil
1 tbs balsamic vinegar
1 tbs of red wine vinegar
1 tsp of dried parsely
1 garlic clove crushed
Arrange fresh tomato slices and cheese slices on two plates. Top with basil and sun dried tomato. Mix dressing ingredients thoroughly and then drizzle on top of salad. Add salt and fresh ground pepper to taste. Serve immediately.
Simple eh?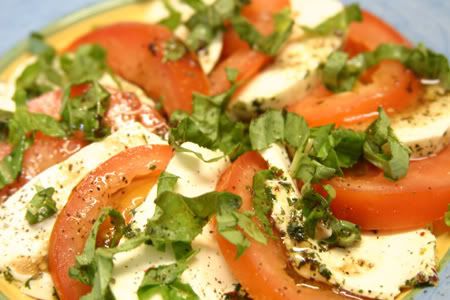 Labels: basil, mozerella, Munchie Mondays, recipe, salad, sun dried tomatoes