Chant: That Which Divides (cd review)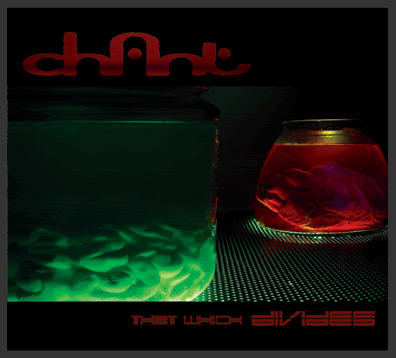 There's talent and then there's
talent.
Know what I mean? Couple that with a strong work ethic, a natural tendency towards perfection and undeniable passion and you've got Bradley Bills aka
Chant.
That Which Divides
is a narrative on the various facets of human nature that drive us apart--violence, greed, depression and denial. There's also a over aching theme of love and relationships throughout the album. For instance, the song "The Line" illustrates the cruel reality of how a singular action can break people up despite a solid history:
We met as one - in truth and in love
We twist and we turn we grow - and we learn to be as one
and answer to no one
But then fate - in hate - turns you on me
Drew a line in the sand and things just go as planned for you, but as for me...
You crossed the line with me this time-you crossed the line.
All his songs have an undeniable tribal and industrial feel due to the orchestration, but there are elements of jazz such as in "Sate" and beautiful world elements are found in the track "Wake up." The brassy and gritty quality of his voice complements the brutality of the percussion and digital elements while usage of piano and guitar adds an extra mature dimension to his songs. I've said this before, but I have a hard time finding another musician to compare him to.
I will emphasize that Chant is something that needs to be seen and experienced live, but the album does capture his sonic energy to an extent. You have to remember that Bradley is, at the core, a fucking good percussionist. What makes his music so unique is the performance aspect: seeing him running around beating on his myriad of drums (just seeing the crew set up all the kits and stations is impressive), splashing the audience with water, not holding back and yelling at the sound booth guy if the levels aren't right, switching out drum sticks without dropping a beat whenever one breaks, etc... "Point and Click" is a great song on the album causing one to want to dance or the very least drive really fast when you're listening to it in the car, but hearing it
live
it makes you want to jump up and down, hit stuff and throw things at people. My only complaint about the album is that the levels for his live drumming isn't loud enough in spots, but that's just my opinion.
The CD packaging is pretty sweet. I picked up one of limited edition formats (1 of only 100.) with a hand forged metal cover containing printed artwork and lyrics on high quality card stock. It's designed beautifully. I love the diagram of the gun parts and how the lyrics to the song "The Secret" are printed backwards. The font is also easy to read which is a plus. The regular version of the CD offers liner notes in PDF format on the disc itself.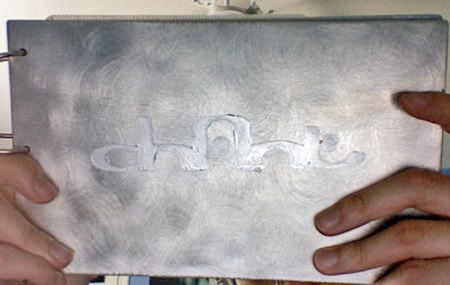 Liner notes are always important to me and from them you get the sense that Mr. Bills is a deep and kindhearted soul who ponders the state of humanity and doesn't take life and its many gift for granted. He gushes words of appreciation to those who helped him along the way. He divulges his concept behind the album. Amongst the pages, there are pictures of Bradley and I found the one of him sitting in regular clothes on the floor, clipboard on his lap scratching out lyrics especially poignant. As RitchN from SubNatural announced during the CD release party last week at Elysium (which also happened to be Bradley's birthday): "This is the hardest working man I have ever met."
So true. The man matches the packaging as well when you meet him in person. You realize that not only is he a good artist, he's a good husband, a good son, a good friend and a good person. For someone as diligent and talented as Bradley Bills (check out his my space profile to see the impressive list of musicians he has worked with) you just KNOW that good things will come. He's already touring that path right now.
Listen to:

"Point And Click"
Wake Up
"Sate"
Upcoming Shows:
Aug 31 - City Lights Bar (McAllen, Texas)
Sep 1 - Chapa's (Brownsville, Texas)
Sep 20 - The Elysium (Austin, Texas)
Sep 21 - Rock Bottom Lounge (San Antonio, Texas)
Sep 22 - Lucky Devil's Bar (El Paso, Texas)
Sep 23 - Atomic Cantina (Albuquerque, New Mexico)
Sep 25 - Mad Studio 111 (Flagstaff, Arizona)
Sep 26 - Soul Invictus (Phoenix, Arizona)
Sep 27 - meets, greets, radio, and more!
(Los Angeles, California)
Sep 28 - Hot Monkey Love Cafe (San Diego, California)
Sep 29 - Bar Sinister (Hollywood, California)
Oct 26 - VooDoo Fest (New Orleans, Louisiana)
Oct 27 - VooDoo Fest (New Orleans, Louisiana)
Oct 28 - VooDoo Fest (New Orleans, Louisiana)
Visit:
Chant's Myspace
"Chant's Official Website"
Purchase That Which Divides from CD Baby
Labels: Bradley Bills, chant, drums, experimental, Industrial, percussion, trance, world beat