Munchie Mondays: Sarah's Chocolate Chip Cookies
Sarah
brought these amazing chewy chocolate and peanut butter chip cookies to the party and several people asked for the recipe. Since ballet intensive camp starts up in a week and I gorged on cake, BBQ, alcohol, cheese and chocolate all this past week...and because I'm feeling mighty lethargic, I have to watch what I'm eating so I haven't taken a stab at this cookie recipe yet.
However, I can tell you that they do taste darn good. In fact, I hoarded Sarah's tub full of cookies for most of the party. They sat on my lap as I opened presants (mind you, I made sure others got a cookie too, but as far as I was concerned she made them for
me
.)
Anyhow, I'll be sure to take photos of the cookies once I bake a batch up, but for now, here's a pic of the trusty recipe originator!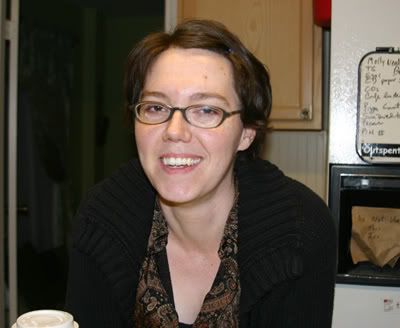 Ain't she cute?
She was kind enough to email me the recipe last week....:)
Sarah's Chocolate Chip Cookies
2 1/8 cups flour
1/2 tsp salt
1/2 tsp baking soda
12 tbsp (one and a half sticks) unsalted butter, melted and cooled slightly
1 cup brown sugar (light, dark, or a mixture of both)
1/2 cup granulated sugar
1 egg
1 egg yolk
2 tsp vanilla extract
1 to 2 cups chocolate chips or chunks (semisweet or bittersweet)
Preheat oven to 325. Line several baking sheets with parchment paper or silicone mats
[
note from Sara
: I used semisweet combined with peanut butter chips, and i was pretty lax about sticking to the measurement here. I like lots of chocolate! I skipped the parchment paper...the cookies were fine, they didn't stick at all or burn]
In a large bowl, whisk together flour, salt and baking soda, and put aside.
In a large bowl, using an electric mixer on medium speed, beat butter, brown sugar and granulated sugar until thoroughly blended. Mix in egg, egg yolk, and vanilla. Add flour mixture, mixing until just combined. Stir in chocolate chips.
Form scant 1/4 cup dough into a ball. Holding ball using fingertips of both hands, pull ball into two equal halves.
Rotate halves 90 degrees and, with jagged surfaces exposed, join halves together at their base, again forming a single cookie. Be careful not to smooth the dough's uneven surface.
[
note from Cindy
: I know this sounds weird but it's kind of the same principle as pressing a cookie down with a floured fork to make hash marks and it helps the top surface bake crisp while keeping the center chewy. You just happened to get the benefit of unleashing any pent up anger by ripping apart dough. If it helps imagine some ass hole of a guy you're doing this to...]
Place formed dough onto prepared baking sheets, about 9 balls per sheet. Bake until cookies are light golden brown and outer edges start to harden yet centers are soft and puffy, 15 to 18 minutes. Remove from oven and cool on baking sheets.
Labels: chocolate, cookies, Munchie Mondays, recipe