Munchie Mondays: Party Food!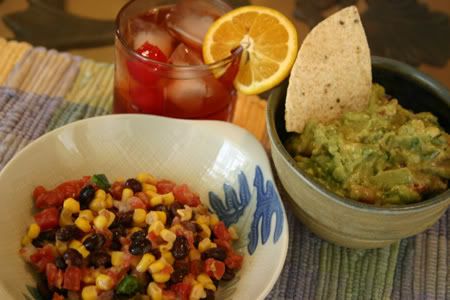 You don't get just one, but THREE recipies today! These were all items that I served up during my kick ass 30th birthday party (post forth coming).
First up we've got the Cindy Kiss. Yes, I made up the recipe some time ago. The joke being that it's red, kinda sweet, complex, easy to manage, but has a little bit of a bite to it.
Cindy Kiss Cocktail
serves 1 or 2 depending
1 shot of gin
1 shot of bourbon
1/2 shot of dark Jamaican rum
1/2 shot of Grenadine
1 shot of peach nectar
Combine above ingredients in a shaker with a couple of ice cubes until well encorporated. Pour over ice into tumbler and top off with sparkling water.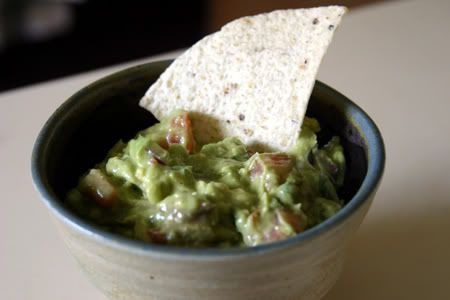 Guacamole
Serves 8
3 large ripened hass avacados
1 medium tomato
1 small red onion
1 bunch of cilantro chopped
juice of 2 limes
juice of 1 lemon
2 cloves of garlic crushed
1 tbs of garlic salt (or more for taste)
1 tsp of black pepper (or more for taste)
1/4 of tomatillo salsa
1 jalapeno pepper finely chopped (optional)
Combine all ingredients in a bowl and mash with fork or potato masher. Cover and chill for at least 30 mintues to let ingredients to combine. Serve with corn chips.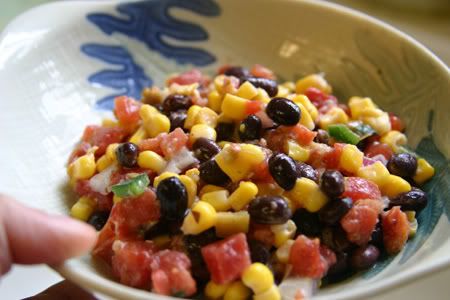 This is a SUPER EASY recipe that tastes great, packs well for pot lucks and makes a nutritious meal served atop rice.
Bean and Corn Salad
Serves 6
1 can of black beans rinsed and drained.
2 can of corn drained
1 can of diced tomatoes drained
1 poblano pepper finely chopped
1/2 small onion finely chopped
1/2 cup of cilantro finely chopped
1/2 cup of sour cream
black pepper for taste
Comine all ingredients in a bowl, cover and refrigerate for at least 30 minutes to let flavours combine.
Labels: bean and corn salad, cindy kiss, cocktail, guacamole, Munchie Mondays, recipe, salad