Koriente
I am so addicted to
Koriente's
specialty noodle bowl called the "Noodle Garden" which according to their site consists of
A nest of spiced mung bean noodles on organic spring greens, with avocado, red bell pepper, red cabbage, and cucumber in our own balsamic soy sauce.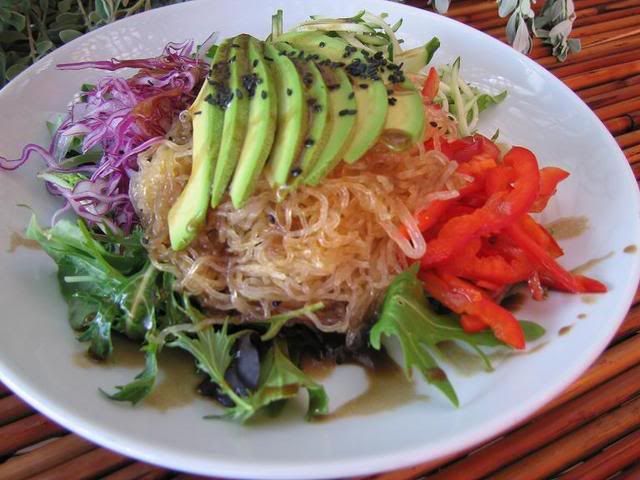 Deceptively simple ingredients and yet the flavors and mouth feel is divine. I find myself craving it often so much so that I had this noodle bowl on Friday as my birthday dinner and then again Saturday evening. I explained to my husband that I wanted to celebrate the day after my birthday too.
I normally order this with either a wintermelon and jasmine
bubble tea
. Koriente is also tea house so they've got a vast selection of hot and cold teas. I've just been so stuck on my noodle bowl and bubble tea combo that I haven't branched out! You know how it is sometimes. You find a restaurant you fall in love with due to one singular amazing dish and this is what's happened to me.
Koriente also displays some great ambiance and zany artwork. It's this strange eclectic mixture of urban art, sleek Asian influenced decor, hippie wares and
stuff
. Everything sort of has a red and black cast to it which makes it fit in perfectly with the gothy and bohemian natives up and around 7th and Red River. There are rice paper lanterns in the ceiling, minimalistic springy chairs and friendly graffiti on the walls. The light from the candles and Christmas lights cast a soft roamtic glow on everything even making painting of a woman with her eyes blackened out wearing bunny ears somehow lovely. Outside they've got a full fledged flower garden thans stands out next to the gas station and club it is situated between.
Sammi
and I were there together on a whim back when
PAIL
had their CD release party. There were technical issues over at the venue
Elysium
, so we had time to kill and just happened to notice (for the first time in months, mind you) the restaurant when we were walking to the club. It's a great place to go with a hot a date or a close confidant due to the restaurant being small and quiet. Since then I've gone numerous times with T and it's always been wonderful.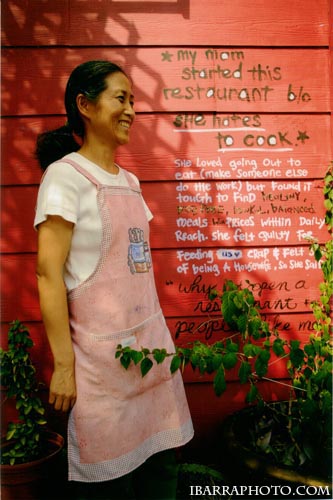 It's definitely a mom and pop family run sort of place. They recognize the customers. The people there know I like lots of ice and less sweet for my tea, etc. There's this one waitress who works there (I don't know her name yet) who is always smiling and cheerful. She's not physically beautiful at least not in the traditional sense and yet she exudes this radiance, inner peace and happiness that's utterly addictive. I instantly feel cheerful whenever I see her and it definitely adds to the whole experience. In fact, all the workers are cheerful happy people. I highly suggest trying this restaurant.
Visit:
Koriente Restaurant
Labels: food, koriente, noodles, restaurant