PAIL: The Last Soundtrack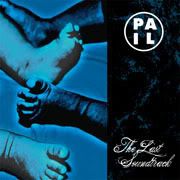 I can tell you the first time I listened to PAIL's new CD
The Lost Soundtrack
I was very shocked to discover it was a home recording. This is a fantastic sounding album that's well mixed and produced professionally. The 10 songs feature adept guitar work, head-banging concert friendly tunes and soaring harmonies. Unlike many bands out there, I am happy to report that the album yields a fair representation of what the band sound like live. Furthermore, the album itself contains 2 quicktime movie videos.
If you like groups like
Killing Joke
,
Ministry
or
Motorhead
, you'll probably love PAIL. Frankly, if you've got any leanings towards goth rock, punk or metal, you'll enjoy these guys. I personally think the sound construction is similar
Lacuna Coil
with the female harmonies and they cite
Filter
as an influence, but frankly, Mike Titsworth has a much richer deeper vox than those two.
The lyrical content is definitely noteworthy and I'm glad they're included them the liners. Morgan and Titsworth are able to conjure interesting imagery through their words urging the listener to track back and reinterpret the possible alternate meanings. Take the song "Bitter End" for instance:
The bitter end was sweet like the fruit that fell from the trees
Meat from the apple had rotten away, dusted the breeze
And from this end came seeds that would later lay flowers at her feet
Everything that I've heard heard about fresh start tears me apart
because all my fears approach as the bitter end nears
I'll tell you why
Listen
You wonder why I break my heart?
So you won't die
I wonder how a fresh start could open our eyes and make us realize
Just a kiss for the kids
Time waits for no one
and that end was this
Just a kiss to set her free from the likes of me

Band Members:
Benjamin Morgan
- Guitar
Mike Titsworth
-Vox, Guitar
Rachel Titsworth
- Keyboard, Vox
Brad Schumerbeck
- Drums
Shannon Deane
- Bass
Russell McCoy
- Guitar
Upcoming Shows:
July 20th @ 10pm Red Eye Fly (Austin, TX)
August 24 @ 10pm Elysium (Austin, TX)
Listen to:
"The Bitter End"
"The Line"
Watch:
PAIL performing an older song called "New" live:
Visit:
PAIL's official website
(you can purchase albums through their official website)
PAIL's Myspace
PAIL's Garage Band Profile
(photo by
Ricardo Acevedo
)
Before I'm 100% done with this post, let me vent a bit...
It's took me a while to write up this review because of the circumstances surrounding my experience with PAIL's release of
The Last Soundtrack.
Although the concert surrounding the release was entertaining, it was entertaining and energy packed for all the wrong reasons. Fortunately, that had nothing to do with the band's performance (which was darn good given what they had to work with).
DON'T EVER LET A SPANKING NEW SOUND GUY HANDLE SETUP FOR A BAND'S CD RELEASE PARTY.
There, I said it.
Now, I don't know the whole story surrounding why the usual sound guy wasn't there, but as an outsider I was definitely a little vexed. Not only is it unfair for the band, it makes the venue seem unprofessional and ill prepared, pisses off an ass load of fans and makes the musicians cranky, fucking nervous and/or livid. The release extravaganza at Elysium was on June 15th and PAIL was the headliner with two supporting acts that are in my top 10 list of Austin Bands,
Chant
and
subNatural.
which would have been a phenomenal experience. But given that sound check didn't end until 9:45pm and SubNatural was supposed to go on at 10:00, the show was delayed by a full hour. Furthermore, Chant didn't even get a sound check which baffles me given the complexity of the multiple percussion rigs. I would imagine they're not that easy to mic. This oversight led to Bradley only being able to hear a screeching loud version of himself and himself only through the right channel of his IEM, which doesn't quite work when your show is dependent on precision and the need to hear a backing track. Well shit...you can imagine tempers were flying and things were tense. The audience was right there with the musicians emotionally the whole way through though.
How did they handle all of this?
Sammi will probably give more detail at some point, but Bradley/Chant took the angry route, banging on his cans with more ferocity than ever and yelling at the sound guy to fix the levels on his IEM while
still
playing, SubNatural just made the best of things and eventually the lead, Ritch, went off and took matters into his own hands and usurped the sound booth. PAIL laughed things off despite the fact that the first 2 songs of the set were laden with feedback, the bass kept cutting in and out, and no one could hear Mike's vox.
I have to say though, the line
"My x-girlfriend got fucked in the nose by a monkey"
caught me off guard while he yammered with the audience. We all got fucked in the nose, so to speak, but you know these are seasoned performers when they can take a bad situation and turn it into something memorable.
Labels: elysium, goth rock, metal, pail, The last Soundtrack