Munchie Mondays: Koriente inspired Noodle Bowl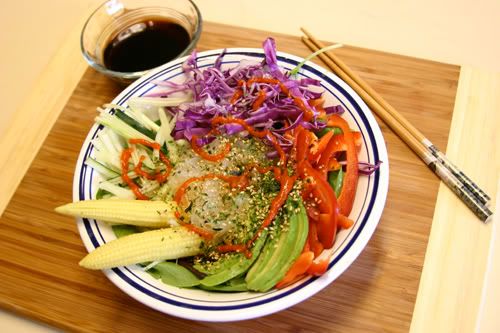 I've
already mentioned
before how addicted I am to
Koriente's
noodle bowls, so it was about time for me to try to figure out the recipe. Granted, I'm going to keep going there for numerous reasons (especially the bubble tea) but for a quick fix, this recipe does the trick.
A word on some of the ingredients....
Sammi
and I both refer to this sauce as "Rooster Sauce." I don't know what the proper name is in Vietnamese, but you can find it in Asian super markets and some larger grocery stores pretty easily. It's basically a vinegar based chili sauce and always comes in large squeeze bottles...with a roster on it: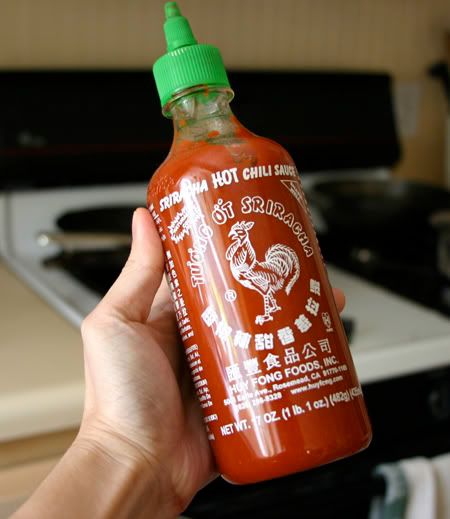 Mung bean noodles or "bean threads" are easily found in Asian super markets as well. You can use rice noodles or sweet potato noodles for this recipe. The idea is to use any sort of noodles in the
cellophane category
. They've got a chewy texture and are easy to cook.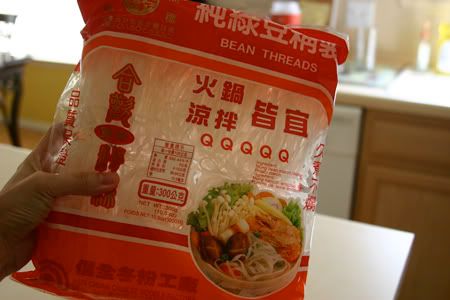 Word of warning:
DO NOT BUY CELLOPHANE NOODLES MADE IN CHINA!!!!
Only buy the ones from Taiwan or Korea because there have been numerous cases of Chinese made bean threads made out of cornstarch instead with a lead extract added to make them look transparent. Frankly, I wouldn't buy any food item from China, but it's really hard to avoid...just my two cents.
As for vegetables to put into the noodles bowl itself, the possibilities are endless. Aside from the ones listed, I'd also recommend: steamed broccoli, steamed asparagus, cooked shitake mushroom, julienned carrots, etc. You might also consider a tea egg or quail eggs in addition. Don't worry about proportions. What is listed below is just a guideline.
Koriente Styled Noodle Bowls
feeds roughly 2
3 cups total of any of the following vegetables:
shredded red cabbage
thinly sliced red bell pepper
Julienned cucumber
baby carrots
...
1 avocado thinly sliced
2 cups of any type of salad greens
2 tbs of Nori/seaweed flakes (optional)
2 tbs of toasted sesame seeds
two bundles of mung bean noodles
2 tbs of Rooster sauce
Sauce:
1/4 c of Soy Sauce
2 tbs of Rice Wine Vinegar
1/4 tsp of ginger powder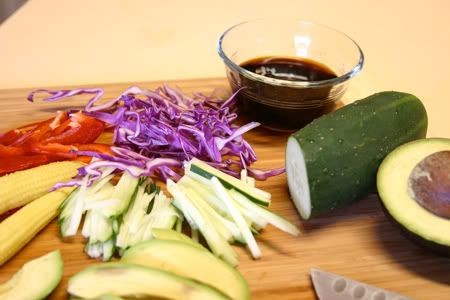 Combine sauce ingredient in a bowl and set aside. In a pot, bring 4 cups of water to a boil and add Rooster sauce to water. This will give the noodles a spicy kick. If you have low heat tolerance, feel free to omit. Boil as long as package instructions suggest. Drain liquid and set aside.
Divide salad greens between two bowls. Mound cooked noodles in the center and then arrange sliced vegetables around the noodles. Garnish with seaweed flakes and sesame seeds and serve with sauce. If desired, squirt more Rooster sauce on top.
Pretty easy eh?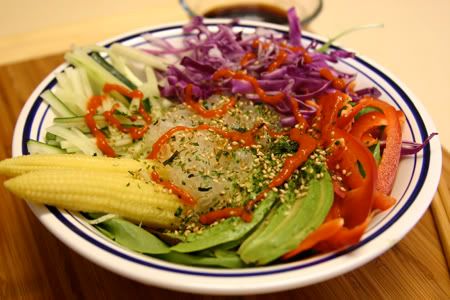 Labels: Munchie Mondays, noodles, recipe