Munchie Mondays: Apple Cheese Pastries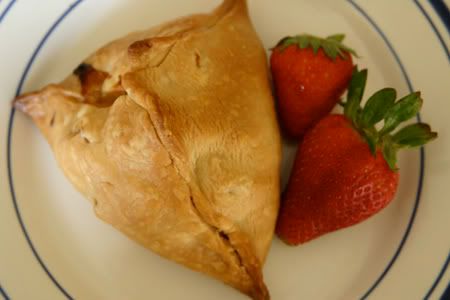 Apples and cheese go hand in hand. It's a combination that never fails and yet you don't see the pairing much in baked goods all that often, oddly.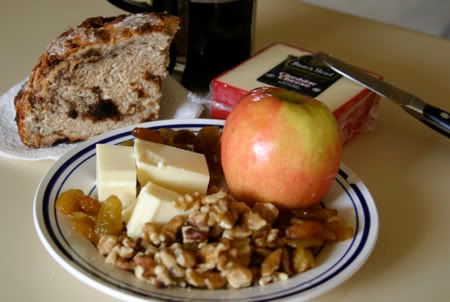 This pastry is really more about the cheese, so pick a fragrant aged cheddar. The blue cheese gives it a kick but if you like something more mellow, add more cheddar or maybe some brie to the mix. The walnuts add a nice crunch while the apples and raisins add just enough sweetness to counterbalance the sharpness of the cheese. Think of it as a glorified empanada.
Apple and Cheese Pastry
Makes 4 large pastries
1
prepared pie crust
1 small apple finely diced (about 1/2 to 3/4 cup)
1/4 cup of roughly chopped sharp cheddar
1/4 cup of crumbled blue cheese -or- brie -or- other dessert cheese
1/4 cup of raisins
1/3 cup of walnut pieces
1/2 tsp of cinnamon (optional)
1/2 tsp of thyme (optional)
1/2 tsp salt
preheat oven to 375 degrees Farenheit
In a bowl combine ingredients. You can add or subtract herbs to your liking. Some people even add honey to make this a sweet pastry, but I like mine on the savory side. Cut pastry into quarters.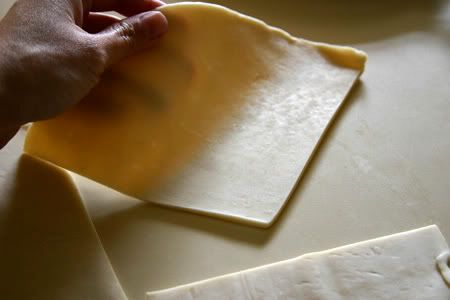 Place a quarter of the filling material in the center of triangular piece of pie crust and moisten edge of pastry with water. This part is a tad tricky: Carefully pick up pastry and contents and using your hand gently cup the pastry so that contents fall towards the center.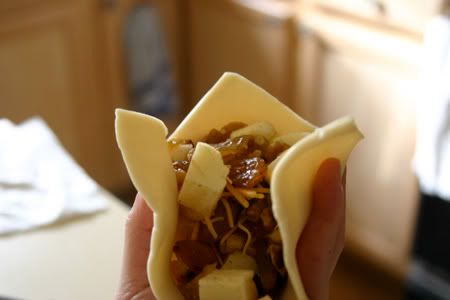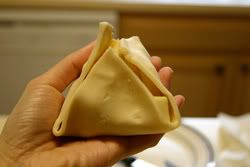 Draw tips together so that you have a
tetrahedron
shaped pastry and pinch opposing sides closed securely. Depending on how you rolled your dough out the edges may not touch. If this is the case, remove some of the filling.
Repeat for the other 3 pieces. Place on an ungreased baking sheet and bake at 375 degrees for 30 minutes. When done the pastries should be golden brown and the cheese and juice of the fruit should be bubbling though the seams slightly.
I realize it is tempting to bite into one of these immediately but PLEASE let them cool off a bit. The steam and melted cheese on the inside will cause a serious burn. Take them off the baking sheet and let cool on a wire rack for about 10 minutes or so. The inside will still be ooey gooey and delicious.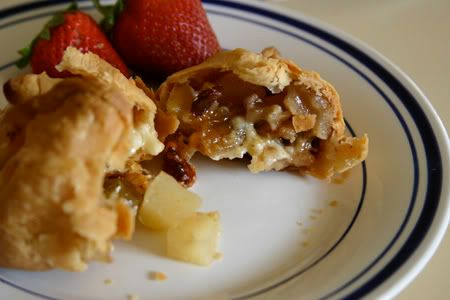 This goes fantastic with wine and fresh fruit. Try it with yogurt or mushroom cream sauce on top. For a variation, I think figs or dates would work well in place of the raisins.
Labels: apples, cheese, Munchie Mondays, nuts, pastry, recipe