Munchie Mondays: Sun Dried Tomato and Basil Artisan Bread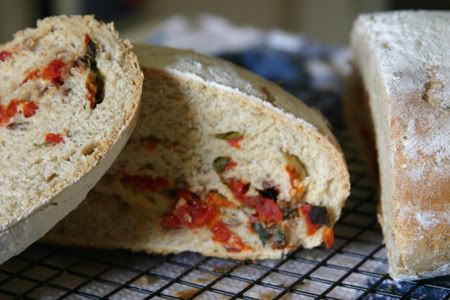 This bread was initially adapted from a recipe for a chocolate and prune loaf by Ursula Ferrigno and Eric Treuille. It was created merely to use up basil that was about to turn. Furthermore, I was having another carb craving and just didn't feel like eating cereal or pasta.
Because it was adapted from a sweet bread, the crumb is delicate and soft. This makes it exceptionally good toasted.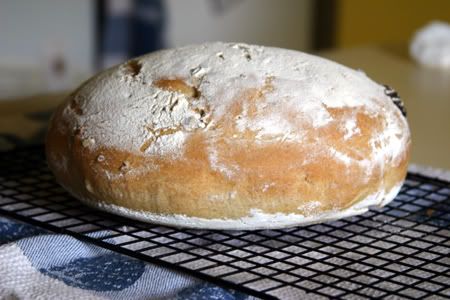 Sun Dried Tomato and Basil Artisan Bread
yields one beautiful loaf
2 1/2 tsp of dry yeast
1 1/2 cups of warm water
3/4 cups of wheat flour
3 cups of white flour (plus additional for dusting)
1 egg lightly beaten
2 tbs of butter melted (can substitute with 3 tbs of olive oil)
1 1/2 tsp salt
3/4 cups of chopped sun dried tomatoes
1 tbs of dried basil (or 2 tbs of fresh basil chopped)
1/4 cup of chopped nuts (pecans, almonds or walnuts)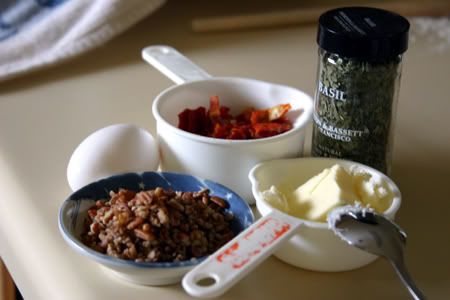 Sprinkle yeast onto 1/2 cup of the warm water in a small dish. Let dissolve for 5 minutes and then stir to dissolve. Mix flours and salt in large bowl and make a well in the center. Dump yeast liquid in center of well and draw in some of the surround flour to make a paste. Cover and let the yeast do it's thing for 20 mintues until you have a frothy "sponge" inside the well you made earlier.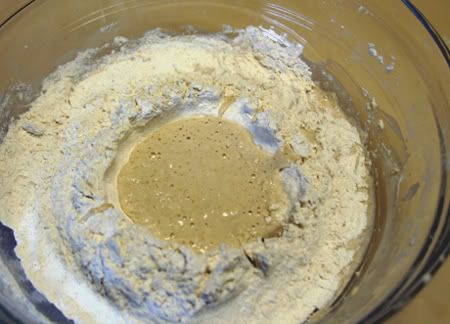 Once the froth has risen, add the rest of the water, beaten egg and melted butter into the dough and mix thoroughly. Turn out onto a flour dusted work surface and using your hands knead for 10 minutes until dough is elastic.
This is a very sticky dough
and you may need to add additional flour to make it more workable. Sprinkle flour on the surface and gradually work into dough making sure that the mixture is soft to the touch, pliable but not smearing all over your hands and work surface.
When done kneading, place in a lightly oiled bowl and let rise in a warm spot for about an hour or until the dough has doubled in size.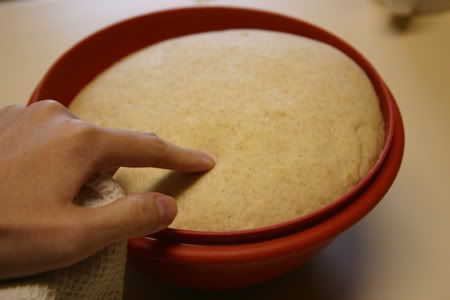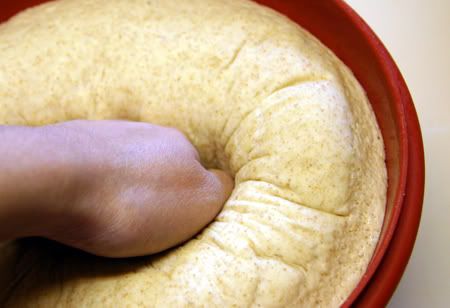 After rising, punch down dough and then let rest for 10 minutes. Dump sun dried tomatoes, nuts and basil on top and using fingertips gently mush and squeeze the flavoring ingredients into the dough until evenly incorporated. This is much easier than trying to knead the ingredients in on a table top due to how soft the bread mixture is.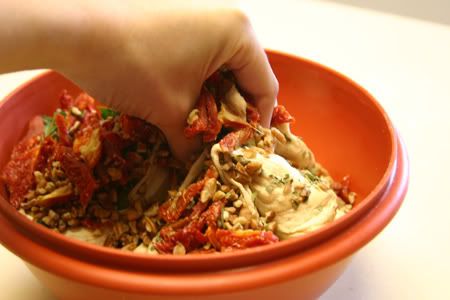 Shape into a ball and place on a lightly oiled banking pan. If desired, prior to proofing, dust with sifted flour. Cover and proof for about 30 minutes or until loaf has expanded about 1/3 of it's original size.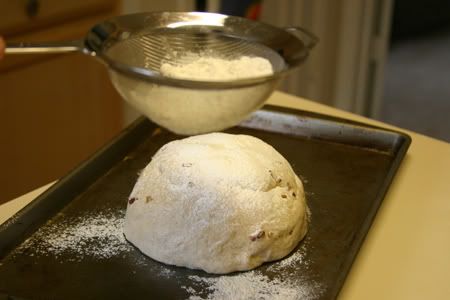 Bake in a preheated oven set at 350 degrees Farenheit for 45 mintues or until done (bread is light brown in color sounds hollow when tapped underneath). Immediately transfer onto a wire rack to cool.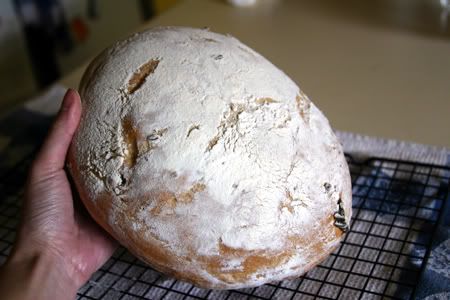 I like toasting slices of the bread and eating it with salad. I'm sure with prosciutto, this would be a divine snack. Another serving suggestion is to smear pesto on slices then adding chopped olives and feta on top. Toast until feta is browned and then prior to serving, drizzle olive oil and sprinkle with black pepper. Yummy!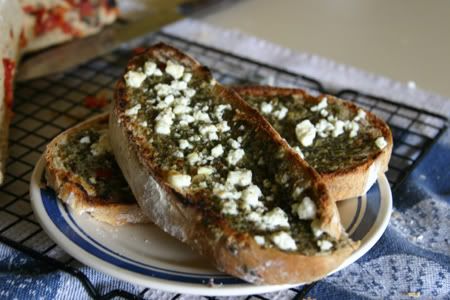 Labels: basil, bread, Munchie Mondays, recipe, sun dried tomatoes