Wear your jeweler close to your heart
...I'm only half way kidding here. Although, I should change that last word to "finger."
Huh?
You ask.
Well, you see, my hubby and I decided to hallmark our upcoming 5 year wedding anniversary with an heirloom piece of jewelry. Those of you who know me know that I'm a
GIA
alum and you probably already heard (probably too many times) the nightmare of my
original engagement ring
. I won't go into massive detail, but basically my husband got ripped off big time and I wasn't there to keep it from happening because he insisted on picking the ring out himself. Don't get me wrong. It's a beautiful ring, but you can imagine the verbal brawl I got into with jewelery store owner and the trauma I put my husband through. I wasn't just pissed off at the ring, I was pissed of at yet another vendor taking advantage of an innocent consumer...
I'm long over that. 5 years is ample enough time to heal especially when you get an opportunity to start all over again with a jeweler gemologist as competent and knowledgeable as
Cyrus F. Shennum
. He was the one who helped my husband select a unique and eye-catching bi-colored sapphire for our 1st anniversary gift (darling hubby was sweating bullets when he presented this to me):
I wore that ring with pride for several years and then came the time when I fell in love with a diamond. I never thought that would happen since I'm a sapphire freak, but ah well, all that dispersion and twinkling won me over. I also liked her soft yellow color and her attractive price tag due to being a "tinted" diamond (colorless and near colorless diamonds command the highest prices). I named her "Lemondrop." Around that time, Cyrus had moved away, much to our dismay so she was purchased from a different vendor and set in a plain cathedral setting.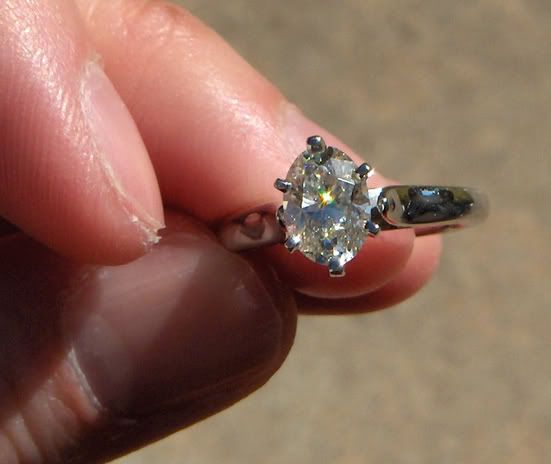 I felt like she needed something more majestic though. We looked all over the internet and around Austin for a new setting. I threw around a lot of design ideas, but wasn't ever satisfied with the jewelers I met with. It was about that time when we received a gorgeous postcard in the mail: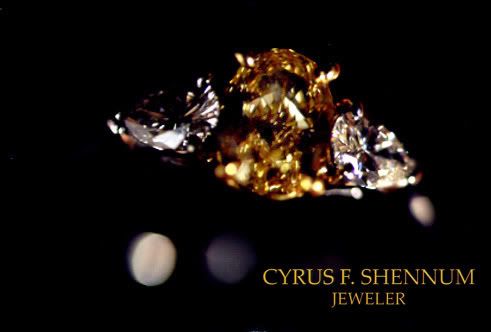 Cyrus was back!!!! Not only had he moved back to Austin, he now owned his own design studio space. I should note that the last time we saw him, we were at a different address, so he hunted down our new address on his own in order for us to receive the postcard. We decided right then and there to go visit our favorite jeweler and have him create my ring.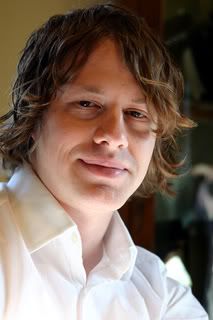 Visits with Cyrus are always welcoming, informative and just plain fun. He's laid back, never pushes items on you and is more than happy to answer any and all questions. I should note his space is not a showroom. There are no aisles of glittering jewels sitting beneath glaring spotlights with an entourage of bleach toothed sales people vying for commission money. Every piece that he works on is one-of-a-kind and completely hand made. Instead, you find yourself in a space that resembles a Victorian sitting room decorated in inviting shades of green peppered dark wood antique furniture. Large floor-to ceiling windows line the walls allowing sunlight to pour into the studio space giving you an honest view of the gems and pieces he enthusiastically shows you by placing them directly into your hands, inviting you to appreciate the workmanship through touch and sight. I've held a 45 thousand dollar star ruby ring in my hands, peered into a massive near-perfect stoplight green Zambian emerald and witnessed beautiful pieces of jewelery in all states of construction. Every item has it's own story and Cyrus seems to always remember the dimension and specs of each stone, where it came from, how it was bought, etc.
He allowed us to take pictures of him during one of our visits with Lemondrop as she was being remade. The whole process took about two months from start to finish.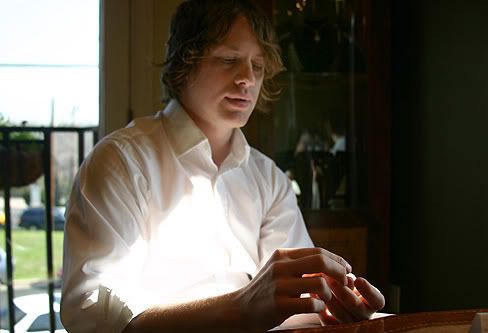 Here is Lemondrop out of her natural habitat surrounded by her new friends-- two smaller fancy orangish-yellow diamonds: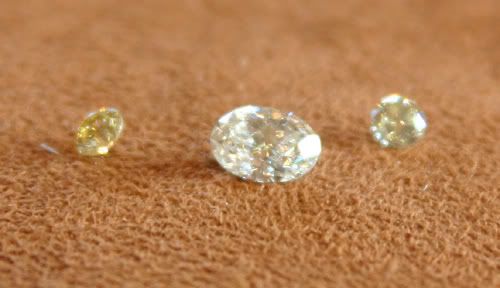 This is the setting in its unfinished format as the shoulders still need to be soldered on. I asked for a platinum shank and head for Lemondrop and 18k yellow gold heads for the side diamonds. The shank is carved from one piece to my size. Each head is meticulously carved from a block of metal unlike most jewelery where pieces are cast and then assembled.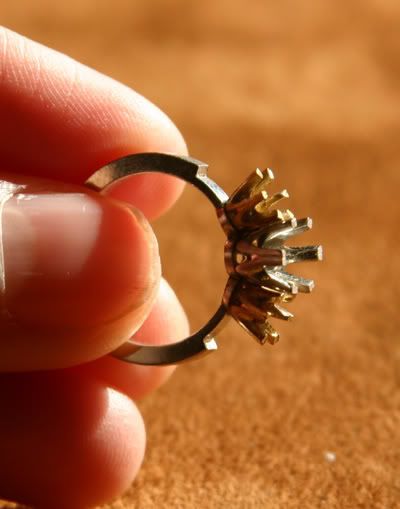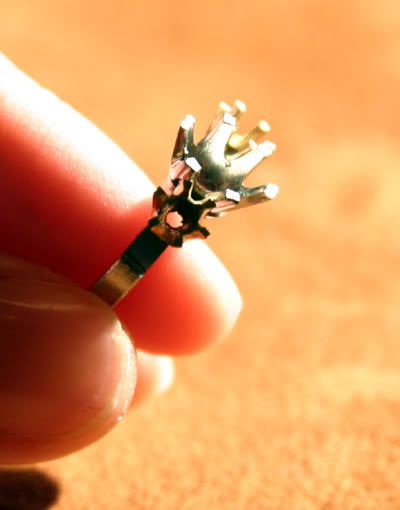 He dropped the stone in place to give me an idea of the looks.
I should note that his bench jeweler Cody did a lot of work on this ring as well cutting and carving the components. Unfortunately, I don't remember his last name.
I also took a few photos of Cyrus's hands as he talked about the process of making my ring. This is a somewhat appealing mannerism both my husband and I have noticed about our jeweler. He turns each piece in his hands as he contemplates each piece. Aside from his boyish charm, I suspect this habit is another a reason why the ladies over at
Diamond Talk
are suddenly so enamored with him (if you don't believe me,
check out this thread.
)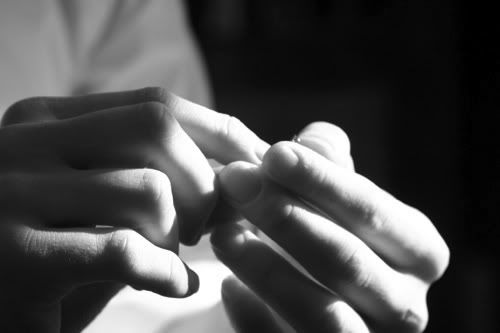 As I mentioned before, every time you visit, you get to meet other pieces of jewelery. This particular day, we met a gorgeous sapphire and Asscher cut-diamond ring set in platinum: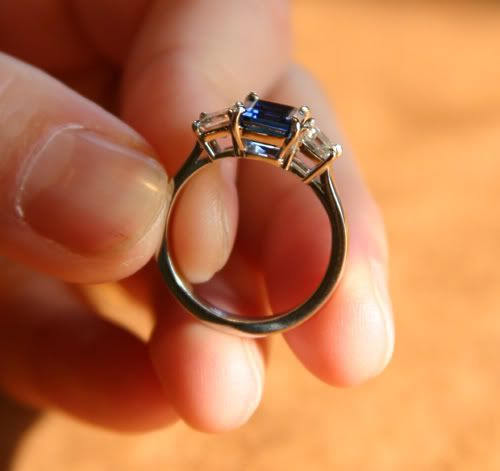 (luck gal who got that one!)
This picture isn't quite in focus, but you can see how high quality the stones are: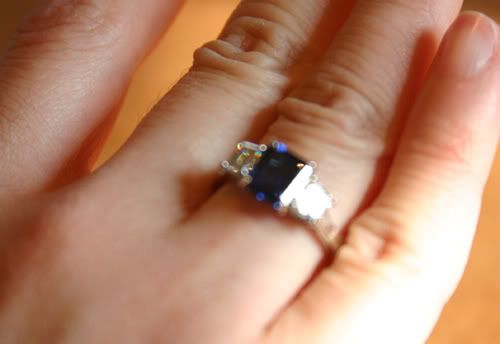 And a lovely antiqued old-world style pear pendant in a claw setting: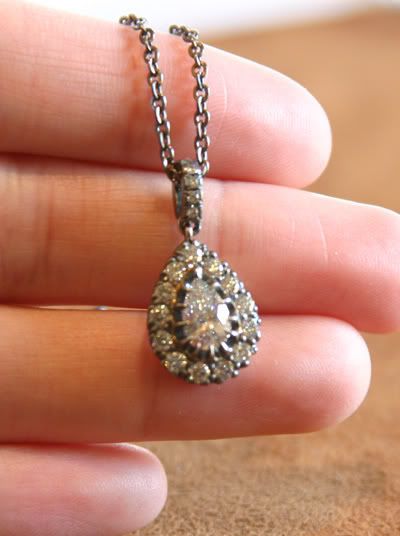 I might as well show you this postcard (such a great way to do advertising...just take fabulous pics of your jewelry and cut out the verbage!) I have seen this pendant in person before and am strongly considering getting something similar made for my mother but with champagne diamonds instead: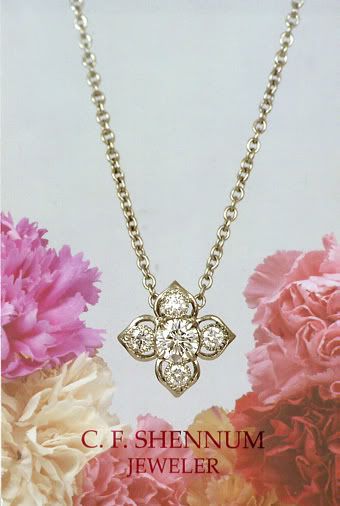 Okay, so the last few days when my stones were getting set and my ring was getting its finishing polish nearly drove me insane! I swear could not sleep for those few nights, but finally, I was able to pick up my beautiful ring this week. Boy is she pretty: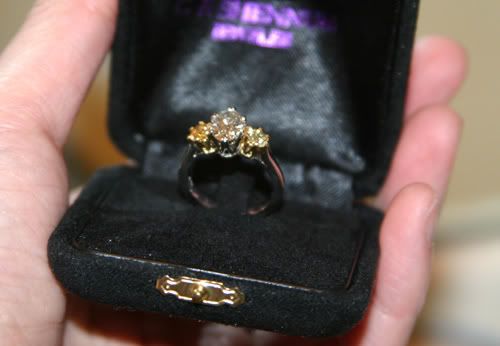 I will admit I was surprised at how much smaller she appear set low to the finger with daintier prongs, but I got over that pretty quickly. My old setting was very high and Lemondrop would catch on things and get knocked around. All the surfaces of her new setting are incredibly smooth and contoured to my hand.
Even the back is solid and impeccably finished: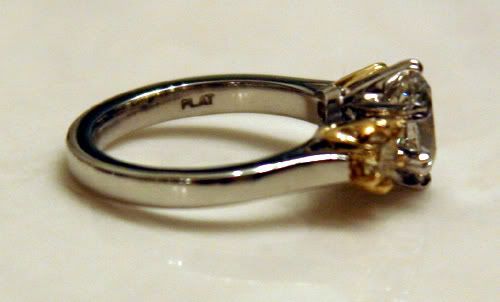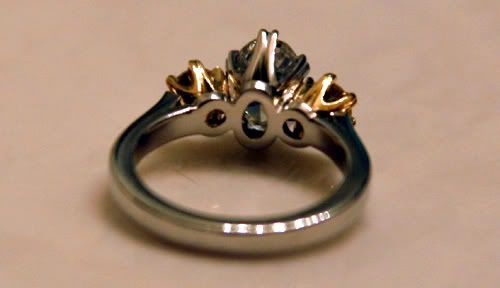 I love how the yellow gold enhances the side diamonds: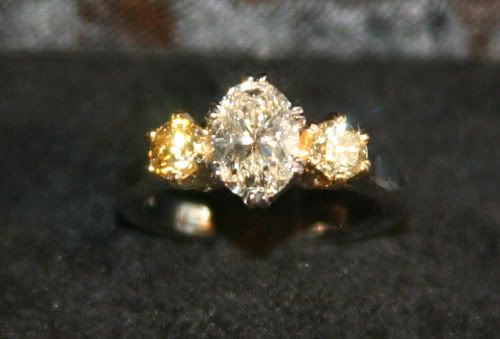 And she feels so comfortable on my hand: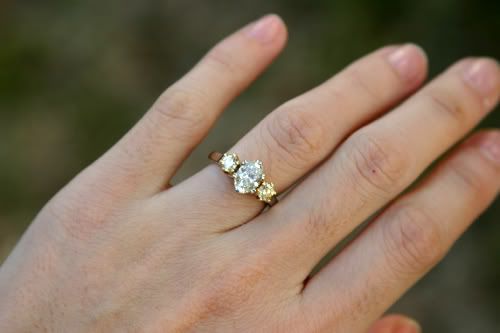 I must say, I'm incredibly satisfied with the ring and the whole process. As for wearing your jeweler close to you heart...once Cyrus gets his new die block from India, my ring will be stamped with his maker marking which will apparently be his name. My husband and I find this incredibly amusing (I can just see it down the line:
"Grandma...who's Cyrus?"
) but we're both definitely proud to have a CF Shennum piece on my finger.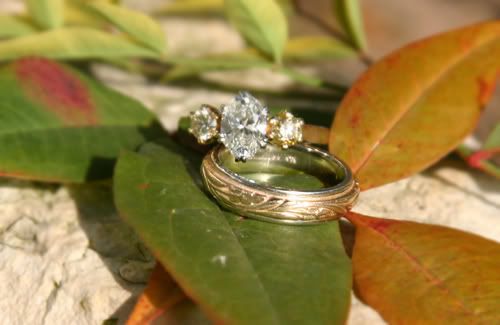 Labels: Cyrus F. Shennum, diamonds, jewelry, rings, sapphires, wedding anniversary