Munchie Mondays: Cindy's Rhubarb Apple Crisp Pie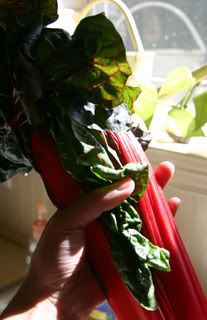 As an aside, let's pretend that I am holding a beautiful bunch of
rhubarb.
The stems certainly
look
like rhubarb, but after I cut off the leaves, I discovered that what I actually had was variety of chard called not coincidentally
rhubarb chard
. Some times it's called
spinach rhubarb.
I even ate the beautiful red-veined leaves and didn't
die
, so it's verified. Am I a nice cook or what? The point is, I didn't actually cook with rhubarb when I took these pics.
How did this happen?
My friend
Cassandra
passed on to me some of the most beautiful farm grown vegetables this weekend which she obtained from another friend. The funny thing was that she didn't really know what some of the items were except that they taste good and obviously I too get my vegetables mixed up every now and then but I do know a beet from a turnip, damnit...anyhow, this recipe is for that tangy sour vegetable known as rhubarb, but I can say the one I made with the funky hybrid chard spinach beet-leaf looking stuff came out really good too (albeit mellower in flavor), so feel free to experiment!
Onto the recipe...
What we have here is a crunchy, creamy, sweet and tart warm confection perfect as a dessert or special breakfast. If you want to cut down on fat (God forbid) simply skip the pie crust and lightly oil the pie pan.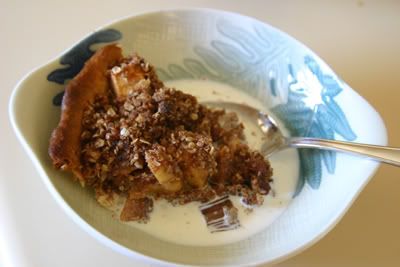 Cindy's Rhubarb Apple Crisp Pie
(feeds about 8)
1 prepared pie crust in pan edges fluted
1 cup of cubed rhubarb (or rhubarb chard petioles in this case)
2 cups of peeled and cubed baking apples
1/4 cup of Bisquick
1/4 cup of wheat flour
1/2 cup of rolled oats
1/2 to 3/4 cup of packed brown sugar (adjust for taste)
1/3 cup of butter
3/4 tbs of cinnamon
3/4 tsp of nutmeg
heavy cream for serving
Heat oven to 375 degrees.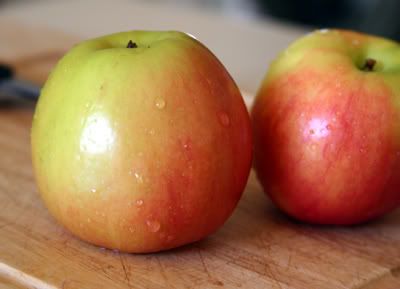 I used Jazz apples for this recipe. Pink Lady and fuji apples work well too. Gently mix the cubed apples and rhubarb in a large bowl. Since I'm a cinnamon and nutmeg nut, I added a couple more pinches at this stage, but it isn't necessary.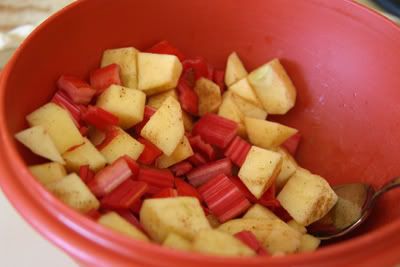 I also sprinkle some to the bottom of the pie crust. Again, I do this out of habit and it isn't crucial to the recipe.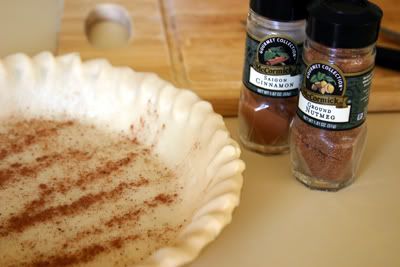 Arrange apple rhubarb mixture evenly in the bottom of the pie crust. In another bowl, cut butter into flours, oats, brown sugar and spices using the side of a spoon or 2 opposing knives in a crossing motion. When the crumbs are small (about the size of a lentil) dump on top of apple mixture. Tap the pan to force some of the crumb topping into the fruit filling. Stick into preheated 375 degree oven for 30 minutes or until apples are tender.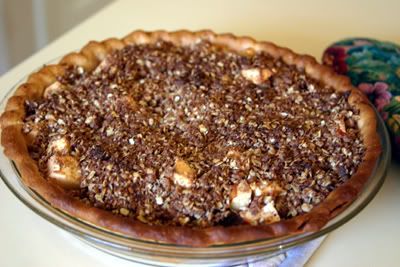 When done, let it cool slightly (5 minutes or so) so the fruit can set up. Serve a slice in a bowl with lots of heavy cream on top.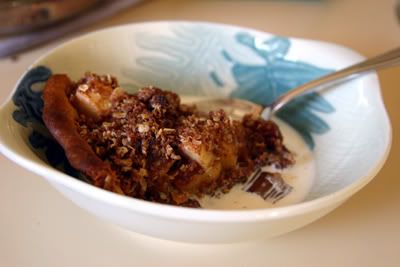 I already ate half a pie's worth! It's that good.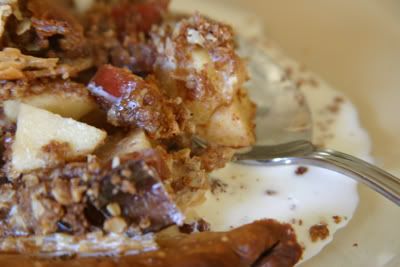 I suspect that chopped pecans in the crumb mixture might be darn good as well. Feel free to play around with pie fillings such as parsnips, blueberries, peaches, apricots, etc.
Labels: apple, Munchie Mondays, pie, recipe, rhubarb