Munchie Mondays: Chocolate Covered Coconut Macaroons
If I were a guy, I'd ask Molly from
Orangette
to marry me. I LOVE her recipes and I love her writing. These cookies are from her food blog and they very well are the best damn cookies in the world.
Case in point: I'm sick as a dog right now. My nose is running, my head hurts and I'm coughing up things that just shouldn't exist in nature.
Sammi
being the generous soul that she is, baked me up a batch of these as a "get well" present. They were so good, I crawled out of bed to make own batch after I finished hers. She used bittersweet chocolate and I used semi-sweet for mine. Although you can use either, I think bittersweet tastes much more sophisticated. It offsets the sweetness of the coconut quite well.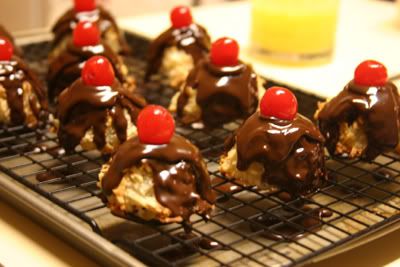 I added maraschino cherries atop my cookies because I feel guilty copying recipes word for word. They look like titties as my husband decided to inform me...I suppose they do. Anyhow, don't feel the need to add those if you so desire.
Chocolate-Covered Coconut Macaroons
(with a cherry on top)
Adapted from
this recipe.
Thank you Orangette!
3 cups (lightly packed) sweetened shredded coconut
3/4 cup granulated sugar
3/4 cup egg whites (about 5 or 6 large)
1 1/2 tsp pure vanilla extract
1/4 tsp almond extract
8 ounces bittersweet or semisweet chocolate chips
3/4 cup heavy cream
10 maraschino cherries patted dry
Place the first three ingredients in a large, heavy saucepan, and stir to combine well. Cook over medium-low heat, stirring regularly, about 10-12 minutes, until the mixture is pasty but not dry. (The uncooked mixture will look sort of granular at first, then creamy as it heats, and then it will slowly get drier and drier. You want to stop cooking when it no longer looks creamy but is still quite gluey and sticky, not dry.) Remove from heat. Mix in vanilla and almond extracts. Spread out the coconut mixture on a large baking sheet. Refrigerate until cold, about 30 minutes.
reheat oven to 300 degrees Fahrenheit. Line another baking sheet with parchment paper or a Silpat baking mat. Using a 1/4-cup measuring scoop, scoop and pack the coconut mixture into domes, and place them on the baking sheet. I ended up with about 10 cookies. The original recipe ended up with a dozen. Bake the macaroons until golden, about 30 minutes. They'll look like this: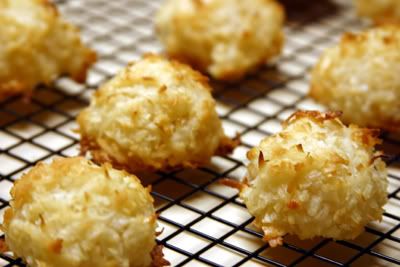 Transfer to a rack and cool. Meanwhile prepare the ganache. Place chocolate chips in a glass bowl and microwave for 20 seconds allowing the morsels to soften. Heat cream over medium heat until steaming hot and simmering, but not boiling. Remove from heat and pour into bowl of chocolate and whisk fiercely until all the chocolate melts and you get a thick batter-like sauce.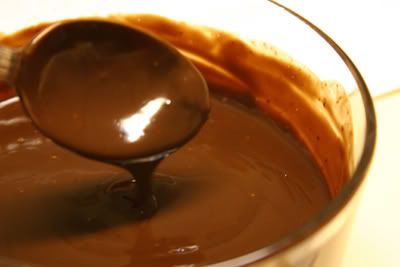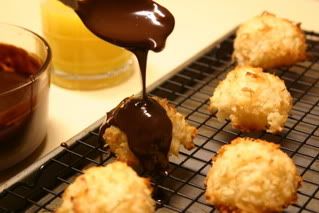 Place cookie rack over a ridged cookie pan and drizzle chocolate over the tops of the macaroons allowing most of the cookie to be covered. Yummy! i managed to use all of my sauce, but if you have leftovers, you can store them in tuppaware in the fridge or freeze. The sauce makes great fondue dip.
Let the cookies set up in the fridge for about 2 hours or so. If desired, top with maraschino cherries after an 1 of setting up. I think toasted almond flakes would be yummy too...maybe sprinkles? I dunno. Anyway, store in an airtight container between sheets of wax paper in the refrigerator or freeze. They actually taste really yummy frozen!
Labels: chocolate, coconut, cookies, Munchie Mondays, recipe