Munchie Mondays: Roasted Nightshade Veggies Over Couscous
Nightshade
Isn't that just the coolest sounding name? I mean, it's so Gawwwwth. I can imagine a dark 18 year picking that as his or her avatar or something...The Nightshade family contains such veggies (eh, *fruits* cough...) as tomatoes, eggplants and bell peppers. This recipe contains all of them! What makes this dish a treat is the incorporation of fresh mozarella balls and roasted garlic. Furthermore, serving the roasted veggies a top couscous with sliced almonds makes this mouth-feel heaven.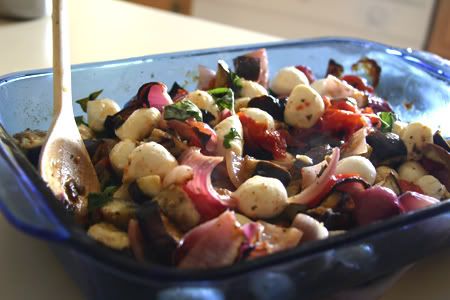 Roasted Nightshade Veggies
(serves 8 or more)
2 full heads of garlic
1 small onion roughly diced
1 small bell pepper sliced into 1 inch strips
1 medium eggplant diced into 1 inch blocks
20-25 cherry tomatoes pricked with a knife
1/4 cup of coarsely chopped basil
1 tsp dried oregano
1 8oz tub of fresh mozarella balls drained
4 tbs of olive oil
2 tbs of red wine vinegar
salt, pepper and additional olive oil to taste
Heat oven to 350 degrees.
Cut top 1/3 inch of galic heads and place onto small greased baking pan. Drizzle the top with a little bit of olive oil and salt. Place into top rack of oven and allow to roast while assembling the other vegetables. The amount of time varies to taste. Around 20-30 minutes should do, but sometimes I need to bake them along side the other veggies for a while to get them to golden brown bubbly state. When they're done, allow them to cool at room temperature. You'll be squeezing the mushy roasted garlic innards into the roasted veggies after they're done.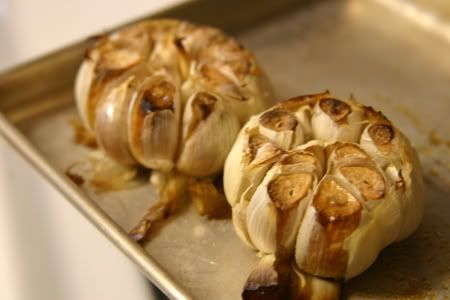 In a large baking dish (I used a 9 x 13) mix olive oil, red wine vinegar, dried oregano, basil, salt and pepper in the bottom of pan. Once again, this isn't an exact science, so don't get too upset about perfect measurements. Just don't overdo the vinegar. Too much olive oil is never a bad thing.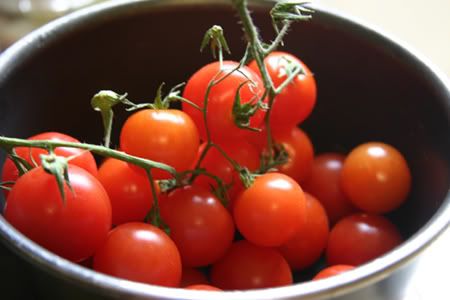 It's important to prick your tomatoes. Otherwise they'll explode and cause an awful mess in your oven. Grape tomatoes are fine to use as well. Again, just make sure they've been pricked with a knife or form prior to baking.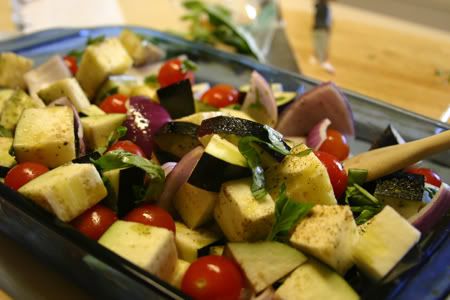 Add the rest of the vegetables to the pan and toss gently making sure that they're coated with the olive oil mixture. Place into the oven's middle rack and bake for 45 minutes or until the vegetables are cooked through and tender. You can easily add other veggies such as zucchini and mushroom. Just be sure to cut everything roughly the same size to ensure even cooking.
When the roasted veggies allow to cool slightly (about 5 minutes). Meanwhile prepare the couscous. When cooled, squeeze roasted garlic pods into mixture (discard the skins), add the mozzarella balls and toss dish gently.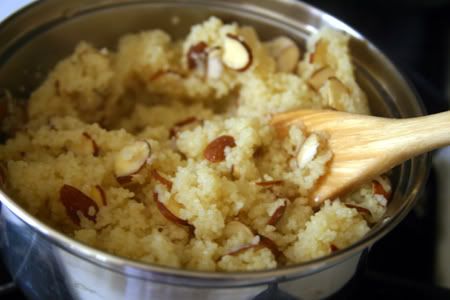 Cindy Styled Couscous
(actually, if it really were "Cindy Styled," there would be an additional quarter stick of butter...not that I'm stopping anyone)
4 cups of chicken broth
2 cup of couscous
1/2 cup of sliced almonds
olive oil to taste
Bring the chicken broth to a rolling boil. Add the couscous and almonds and reduce heat. Cook for an additional minute and then turn off heat. Cover tightly and let steam for 5 minutes. Fluff with a fork and add olive oil to taste.
Serve the vegetables atop the couscous and you've got a complete meal! If you'd like, drizzle even more olive oil on top, add freshly squeezed lime or balsamic vinegar. I like to dress mine up with more sliced almonds.
What's even better is that you can eat this dish cold. It also goes great with pasta or with lettuce as a salad.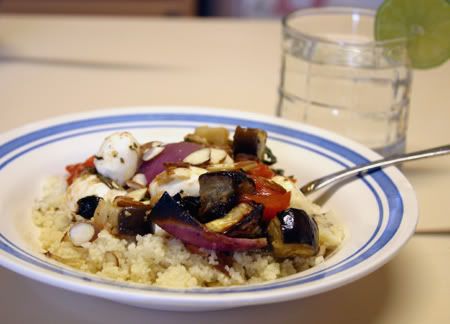 Labels: couscous, Munchie Mondays, recipe, roasted veggies