Pulse Faction: The Celestial Hellgrounds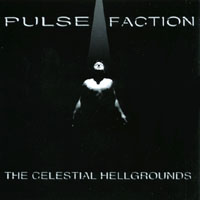 I should start off by saying that this is an atmospheric album, but not in that fluffy ambient or new age sort of way. Instead,
Pulse Faction
has created through
Celestial Hellgrounds
a cohesive soundtrack illustrating the depths of someone's depravity, desperation and destructiveness through brutal percussion and guitar riffs, tense electronic elements, dark melodies and raw unforgiving vocals. Considering that all 9 songs from this album has found its way into countless TV spots, movie soundtracks, commercials and video games, this is not surprising.
Sound wise, I would describe them as a cross between early
Tool
with its lyrical metal style plus vocals akin to something that falls between David Draiman of
Disturbed
and Wayne Static of
Static-X
. However, the is also a supportive electronic/synth element to all of the songs that makes Pulse Faction something much more than just a metal band. By far, the guitar performances are what stands out in all of these songs.
As mentioned before, sonically (and thematically) there is great continuity between the tracks. The first song "Release" hits you in the face with a great industrial sounding rhythm part and then the fierce drums and powerful riffs kick in. "Lies" and "Empty Room" showcases Brock's ability to create tension with its staggered layers of synthesized sounds and beats. "Assimilation" and "Strain" are both clearly pieces that would sound amazing live. They're wrought with head-banging downbeats, throbbing massive power chords and taut frequencies reminiscent of
Rob Zombie
or
Raymond Watts
. The last track "Ascension" still delivers the adrenaline inducing forward moving beats which conjures images of bodies ramming into one another dancing with primal ferocity in a darkened club (appropriate given that the lyrics begin with
Primal instinct. Primal instincts. The fire within me...
) Only during the vocal break and synth solo does it let up a little on the energy. The album ends with as much of as rush as it began. The 7th track "Salvation" happens to by my personal favorite.
Vocal intonation is slightly sharp at times, and can be bothersome if you're a stickler for such things, but it doesn't really detract from the music. I suspect Brock's voice is going to improve, become richer and more complex as he ages (much like
Trent Reznor's
vox has over the past 15 years). If I was disappointed with anything at all, it was with the sparse CD packaging. Although lyrics aren't always important to me, I think in this case seeing the written words would have definitely been an added plus since there are a few moments where I can't quite make out what Brock is saying. It's not a huge deal though. For example, with the ethereal Scottish group
Cocteau Twins
(notorious for having completely indecipherable lyrics), the emotion and inflection of what is being sung is much more important that the actual diction of the written text. I think Pulse Faction does this aspect well.
I do wonder though if the lyrics were left out on purpose given how personal this album is to David Brock. Why rub salt into a wound by exposing the written prose when the music itself conveys so much of the hurt and pain he went through during those formative years? The only liner notes provided is the haunting dedication which further punctuates the darkness and despair:
This album is dedicated to my friend Brendon Raichle. Until we meet again, rest in peace.
Band Members:
David Brock- Vocals, Guitars, Programming, Keyboards
Patrick Puente- Bass, Vocals
Johnny Ostrem- Drums, Vocals
Upcoming Show:
May 23, 2007 @ 10:30pm -
Room 710
(Austin, TX)
Listen to:
"Salvation"
"Strain"
Visit:
Pulse Faction's Myspace
Pule Faction's Website
Buy the Celestial Hellgrounds from CD Baby
(photography by
Envision Creative
)
Labels: Celestial Hellgrounds, David Brock, electronica, Industrial, metal, Pulse Faction