Munchie Mondays: Albondigas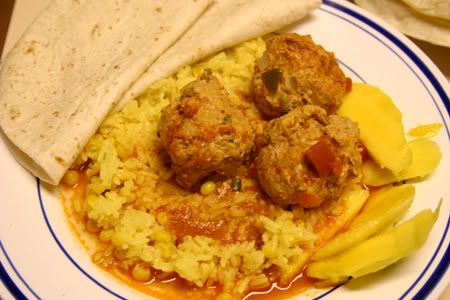 Albondigas
simply translates to "meatballs" in Spanish. This is a modified version of a recipe my dear friend
Beth
gave me. Beth lived in Mexico City for some time and knows a thing or two about authentic Mexican cooking and she served up this dish during a dinner party recently. It was a total hit!
There are several versions of this recipe out there, mostly to do with the types of vegetables used. I've seen carrot, yellow squash and even mint incorporated into this dish. However, what really makes this delicious item are the
Chipotle chiles en adobo
. You can find these canned in most grocery stores and they're basically roasted chipotle peppers in a thick gravy. I used 3 chipotle peppers in my version, but feel free to modify the spice content to suit your needs.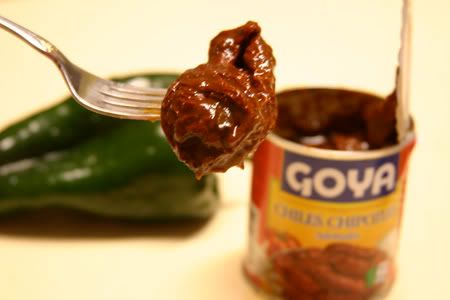 Pork Albondigas
Serves 6-8
ingredients:
1 1/2 pounds lean ground pork
2 small zucchini squash (grated or chopped finely)
1 small onion finely chopped (reserve half for sauce)
1 poblano pepper seeded and chopped finely
2 eggs
1/4 teaspoon dried oregano
1/2 teaspoon black pepper
3/4 teaspoon salt
1 teaspoon cumin powder
2 tbls olive oil
20 oz of canned crushed tomatoes with juice
1 cup of chicken broth
1 to 4 Chipotle chiles en adobo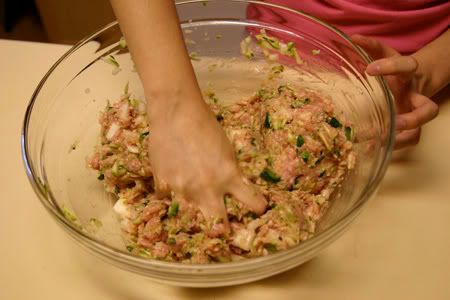 Mix the pork, grated zucchini, chopped poblano, half of the onion, oregano, pepper, salt, cumin and eggs in a large bowl. Form into 1 1/2 to 2 inch size meatballs. The mixtures should yield around 20 to 24 meatballs.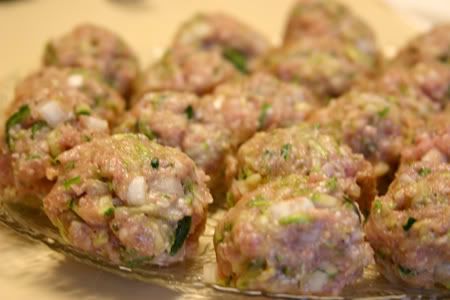 Add olive oil to the bottom of a large pot and fry the rest of the onion in the hot oil until transparent. Meanwhile, blend crushed tomatoes and chipotle peppers in a food processor until smooth. You can reserve some of the crushed tomatoes if you want a chunkier sauce. Place all the tomato chili mixture into the pot along with chicken broth and bring to boil. When boiling, gently add the meatballs to the hot liquid.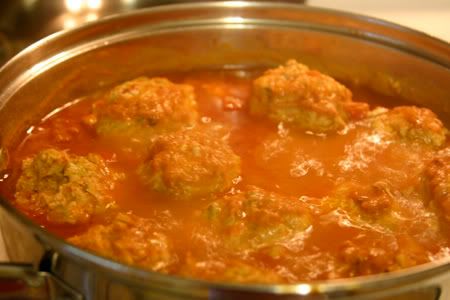 Boil uncovered for 5 minutes, then reduce heat and cover. Cook for an additional 30 minutes until meatballs are cooked through. Zucchini and poblanos should still be slightly crisp when meat is done.
Serve with rice and tortillas. Beth had these served up with fresh fruit and beer which made a perfect accompaniment.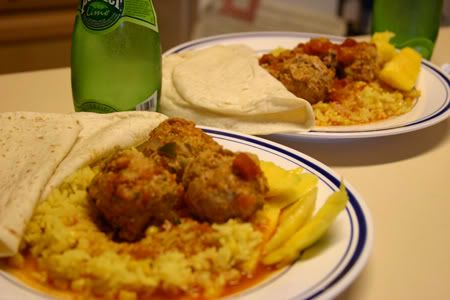 Labels: meatballs, Munchie Mondays, pork, recipe