Chant:That Which Divides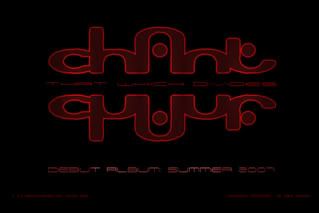 I've said numerous time that there are few who can rival Punjabi percussion super group
Dhol Foundation
, but I think I may need to eat my words.
Chant
is a one man show, namely Mr. Bradley B. Machine-like in precision yet as passionate as any devoted artist, he's a spectacle and an inspiration... That is to say he's an indication of someone who pushes the outer limits of creativity and energy. Having played in numerous bands in the past, Mr. B soon realized that the only person you can trust is your own self when it comes to hard work, commitment and a unique vision.
In short, Chant is a percussionist, and a damn good one, but sadly that description falls short even though it's accurate.
Drummer, performance artist, a master of rhythm and sound. How could you even classify Chant? We won't even go into the composing, programming, web design and promoting he does on his own as well. You get the feeling that there's nothing he can't handle (sorry ladies, he's taken). He's like
Stomp
on crack,
Blast
with the boring brass bits taken out, and the entire drum line of the famed
Cavaliers
wrapped up into one sexy body. I tell you
Tommy Lee
would shit himself if he hasn't already.
The music definitely has an industrial element to it (one of the things he bangs on is a mounted satellite dish, apparently) with a tribal influence. You hear hints of jazz and world as well. In addition, he manages to sing with his strong brassy vox
while
playing, and no, the man is not sitting down at a kit either. He's up and about, a searing ball of fire while performing.
See for yourself.
Watch:
"Drag Me Down"
The clip above (courtesy of
www.chantproject.com
) is some amazing live video footage of Chant opening for
Pigface
back in April 28, 2005. It ought to give you a small idea of what the energy level is like when he performs and I'll be experiencing it myself tomorrow night. If you're in the area
go see him live.
His debut full length album
That Which Divides
will be out this summer, August 2007. You can purchase his live DVD and EP off of his official website which also features ample amounts of media, interesting interviews and a mp3s.
The album described by the man himself:
It's all about "this thing between us". Between you and me, between us and them,
between everyone. What separates us in so many, many ways, when deep down, we are all the same? And what things hold us all together?
Listen to:
"Crash Me"
Upcoming Shows:
May 24 @ 11:00pm -
Elysium
(Austin, TX)
June tour:
Visit:
Chant's Myspace
Chant's Official Website
Labels: Bradley Bills, chant, goth, Industrial, percussion, tribal