Munchie Mondays: Cindy's Breakfast Cookies (Oatmeal)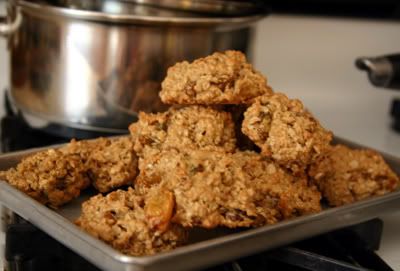 I call these breakfast cookies due to the ample amount of roughage in these little treats. These cookies are also not super sweet, easy to transport and taste just as good with milk as they do with strong coffee before a long day at the office. I suppose that the description of "roughage" doesn't make these cookies sound too satisfying, but they really do taste fantastic. Leave it to the whole stick of butter to ruin the healthiness of this recipe, but alas, butter is my seductive friend. It helps give the cookie a nice crunchy outside and moist center.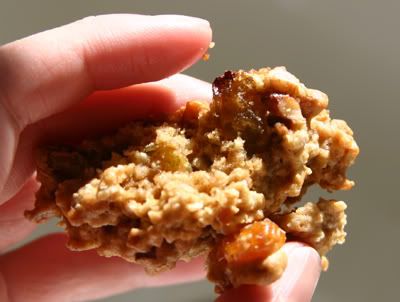 The important thing is to
hand mix the batter
. This gives a nice dense chewy cookie. Although regular raisins can be used, I happen to like the subtler flavor of golden raisins more and the nuts can be omitted or replaced with chocolate chips. Try maple extract for a change in flavor. If you do like sweeter cookies, you can add up to a 1/4 cup of white sugar into the batter.
Cindy's Oatmeal Cookies
(aka Breakfast Cookies)
makes about 20
1 stick of butter softened
1/2 cup of packed dark brown sugar
1 tbs of granulated white sugar
1 egg
1 tsp of vanilla extract
1/2 tsp of baking soda
1/2 tsp of cinnamon
dash of salt
3/4 of whole wheat flour
1 1/2 cups of quick cook rolled oats
1/2 cup of golden raisins
1/4 cup of finely chopped pecans
Preheat oven to 350 degrees Fahrenheit
In a small bowl, thoroughly combine flour, baking soda, cinnamon and salt. Set aside.
In a mixing bowl cream butter and sugar until well combined. Beat in egg and vanilla.
Gradually add the wheat flour and rolled oats and gently mix until batter is moistened.
Do not over mix
. Add raising and chopped pecans and mix gently. Drop dough by rounded table spoon amounts onto a large ungreased baking sheet. The cookies will not spread too much.
Bake for 10-12 minutes or until cookies are golden brown. Let cool on baking sheet for a couple of minutes and then transfer to a wire rack. After cool, store in an air tight container. Because there isn't that much sugar or fat in these cookies to act as a stabilizer, I would consume them within a week unless you refrigerate them.
As one of my ballet teachers (David Justin) would often say "Easy-peasy lemon squeezy..." Heh. I think that applies here. :)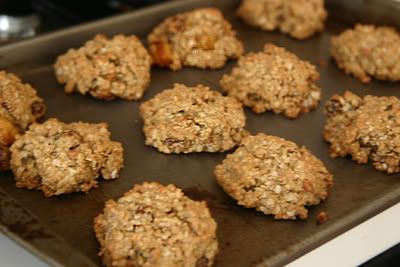 Labels: cookies, Munchie Mondays, oatmeal, recipe