Whaaaaa! I want....sniffle
So as many of you know, my sweet cat Molly passed away (a day after my dad did). As you can guess this has simply added to the great empty hole in my heart. Moose the crazy gold fish terrorizing the guppies and flat out taking a huge chunk out of Mr. Algae Eater didn't really help things either, so you can imagine the added heartache when I realized I couldn't take home this beautiful kitty I feel in love with yesterday.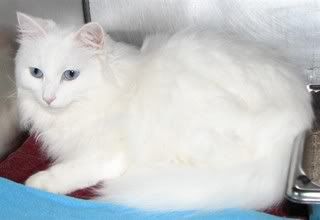 Soooo pretty. Darlin Hubby and I looked at cats yesterday and this fluffy white cat caught my eye immediately. She had a dainty face, tiny ears, a delicate frame, long silky white hair and sapphire blue eyes. She was cuddly and sweet. She even smelled good!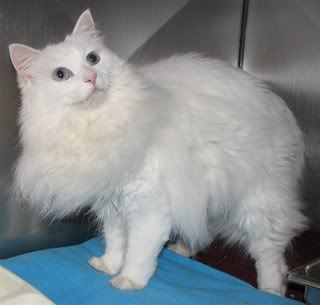 I just loved how regal looking she was, but sadly she's completely deaf. This is a
tendency
with pure white cats who happen to have blue eyes. That alone would not have been an issue, but for whatever reason her former owner got
all four paws
declawed. She tried climbing up onto Travis's lap and couldn't quite do it. Sniffle...so sad. Hence, she's pretty much defenseless and has to be the only cat at home.
Whaaaaa! I know it's in her best interest, but I loved this kitty. We bonded. She really liked Travis too and all the other cats just seemed like cats to me. Even the kittens at the SPCA didn't really catch my fancy. She was all huggable and would actively snuggle back. During my short visit with her I already managed to find a sweet spot on her chest. Sigh...Oh well, I know with such a sweet personality and good looks she'll get adopted soon. It would be nice if someone I knew adopted her (*cough*cough*) so that I could visit often. :)
Labels: cats