useful math for day
While we're on the topic of the crumbling education system, I ought to share a funny story:
This was back in 1999 and my first semeser as a TA. I was teaching Multivariable Calculus at the time and on the very first day of class, the students were doing an algebra and geometry review on their own while I walked around and evaluated any weaknessed I needed to address that week to get everyone up to speed. Mind you...it was a freaking review. I know people get rusty of the summer, but one gal was having a heck of a time. She couldn't even cross multiply.
I tried helping her some and all she could say was "Uh. I made, like a 5 on calc AB AP exam." This was obviously someone who is an excellent test taker but didn't really know the actual content nor the concepts. The pride of her perfect score on the AP Exam swelled so much that basically algebra was an impossibility at this point. Even after a couple of her co-horts decided to jump in and try to help her she said with exasperation a phrase I hear all the time:
"I'm never going to use this."
I was intrigued of course because if she was, say, an English major or perhaps a History major, why the hell would she submit herself to such torture? I asked what her major was. She rolled her eyes and answered:
"Uh. Astronomy. Like, looking through a telescope doesn't require calculus."
I ended up doing the most unprofessional thing in the world. It was my first day teaching after all...I busted out laughing. I laughed so hard I was practically rolling on the floor. Even worse everyone else started laughing. To top it all off, between gasps of air as I was doubled over in a torrent of guffawing, I said something the effect of "Astronmy or Astrology?" To be honest astrology requires oodles of math as well.
I'm sure I scarred her for life (For the record, she managed to make a D in the class and had to take it again. I'm suprised she didn't drop after discovering how insensitive her TA was. She did change her major though...to Civil Engineering. Gah.), but in a way I felt like she deserved it. First of all, ask any astronomer and they'll tell you they spend a minimal amount of time actually looking through a telescope. I consider that major much more complex and difficult that math or physics because you essentially have to be proficient at both. And here this gal was telling me she didn't need math, let alone calculus, let alone simple algebra for her major? Give me a break.
***
Anyhow, I used concrete math today. First of all, I got a raise at work. Yippie! I used math to calculate my percentage. I mean, that's practical and when I recal the type of problem I had to set up was identical to the one that my student (ms. 5 on her calc ap exam) couldn't do. Oy vey!
On a more interesting note, I got to use pi just a couple of hours ago when I was estimating the appropriate size of an accent diamond for the semi mount I am creating for my
birthday purchase.
I even used high school geometry to properly bisect a section of my diagram:
I calculated the estimated size for a 16 surround and a 12 surround.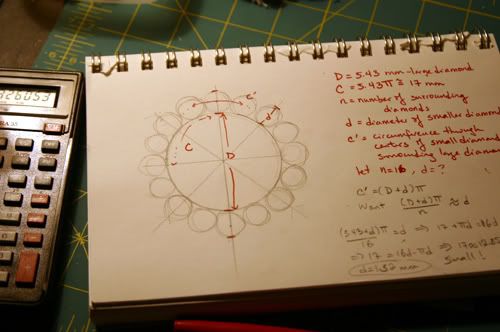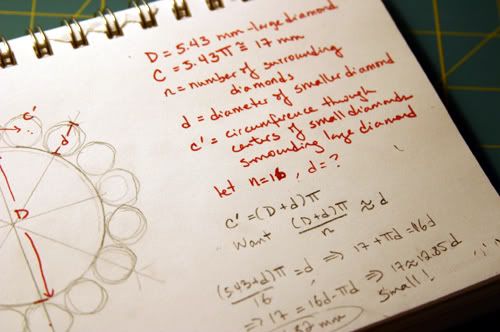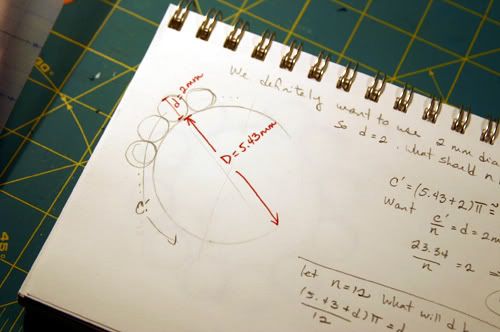 And then calculated the total diamond cost: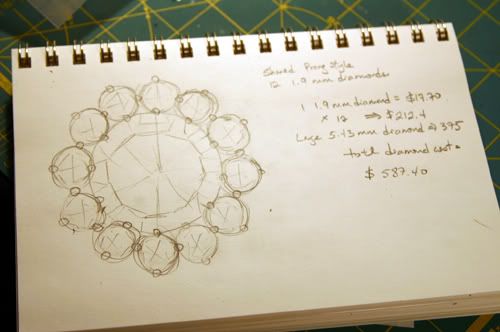 It'll be a shared prong cluster style with 1.9mm (.03 ct.) diamonds:
So yeah. That's my rant. It's not like I'm thinking about hyperbolic geometry every day, but you do use a little math every once in a while...especially if you're an Astronomer!