It's my birthday today!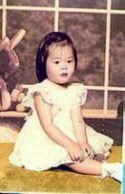 I'm 29 today! Happy birthday to me. It's a nice number. It's a prime number. It's 2 away from being a
Mersenne Prime.
Yee Haw!
So, I scoured
Soundclick
and discovered tons of birthday related songs. Be sure to check out the band
Birthday Massacre
from Canada (there seem to be a lot of good bands from Canada). I felt like I hit some gold when I discovered their music.
I'm breaking with tradition and posting songs that I don't actually own (well, except for the NKOTB one, but that's supposed to be a secret). A lot of these are set up as direct download, so I'm not sure they will work on all browsers/platform, but a couple should most definitely work.
Tra laa laa. I'm obviously not getting much work done today. :)
Listen to:
"Happy Birthday To You"
by
New Kids on the Block
(clip--Thank God!)
"Little Girl on Her Planet"
by
Sminky
"Happy Birthday"
by
Xi Chen
"Video Kid"
by
Birthday Massacre
"Birthday Song"
by
Suicide Dolls