Schrodinger's Cat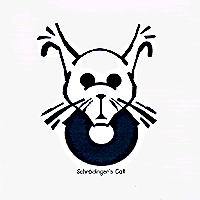 These guys are my favorite local musicians of all time and it isn't simply because I share embarassing Madrigal Dinner experiences with a couple of them. Although, there's no bonding quite like wenching customers, singing songs about banging sheep and moose...er, I can explain later if you really want to know.
Pictured are: Jackson Blacklock, William Blacklock, Corey Hardman, John Pointer, and Lester Chiu
This is an all-male a capella group (not to be confused with the prog rock group of the same name) which started out as a university student club that had a habit of breaking out into impromptu performances on the steps of the campus main building during lunch hour drawing large crowds. The sound is like Bobby McFerrin on steroids and their repertoire is just as varied. Pop, hip-hop, R&B, reggae, soul, jazz etc. You name it, they's probably done it. They describe themselves as a cross between Bobby McFerrin and Stomp which isn't too far off as they don't just sing, they use all their body parts as percussive aids. One website mentions:
Schrodinger's Cat enjoys walking the fine line between the highly innovative and the completely insane...
Indeed. They also dance with choreography smooth enough to put any boy band to shame. Performance wise, these guys are fantastic (and cute too) exuding lots of energy and frequently getting the crowd involed in some rhythmic chanting.
Listen to these tracks (courtesy of
Stinson Studios Austin, TX
):
"In Your Eyes"
, (Peter Gabriel cover)
"Spin"
You can purchase their debut CD
Big Beat A Capella
.
Official Website:
www.s-cat.com
***
And don't worry, there really will be a podcast up soon and when I say soon, I mean soon in the normal sense-- not "soon" as in Axl Rose's interpretation of soon. I have just have to get a decent microphone. BTW, if you can't download my MP3's from my webspace provider, please holler. I've already decided on the podcast 1's theme: A Capella!