The Cavaliers of Rosemont, IL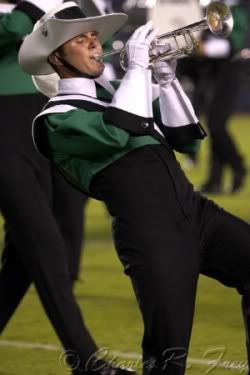 This is not a marching band, folks! There are no whiny piccolos or woodwinds, for that matter. They don't play watered down Beetles covers or fight songs anthems. They don't march up and down a field in boring lines and they don't have a drill team full of bimbos wearing brightly colored spandex outfits.
This
is a drum and bugle corp. The
Cavaliers of Rosemont, IL
are one of the best...if not
the
best in the world. These guys have snagged more championships and titles than any other drum and bugle corp in the entire history of competitive marching. Of all the competitions these days,
DCI (Drum Corp International)
is the most prestigious and the Cavaliers have won the DCI world championships 6 times and have consistenly placed in the top 10 in the past 20 years.
So, why am I talking about them on an mp3 blog? Well, for one thing, they
are
musicians. You can think of them as a massive brass ensemble with cool costumes and dancers on a stage the size of a football field. Futhermore, they are my favorite drum and bugle corp ever since I first saw them in 1992. I was in highschool and my band director took us to a regional competion to inspire us (
and boy did it work!
). I've seen the Cavaliers in competition live about 8 times since and it's an audio visual experience that's almost too difficult to put into words. Imagine 70 brass members with close to 40 percussionist and 30 color guard members---all male. In fact, they are one of only two all male corps remaining and started out in 1948 as a boy scout troupe.
The Cavelier sound is truly amazing. I don't think these mp3s can do them justice, but here's are some snippets from show's I've attended. Listen to:
"Gavorkna Fanfare"
by Jack Stamp (1992, first DCI title)
"Jupiter"
by Gustav Holst (from
the Planets
suite)
But, seeing them is even more impressive. Here are some DVD trailers from the
official website
that can give you an idea of the pagentry, energy and near perfect execution these guys can deliver:
"2004 Show: 007"
"Cavalier Chronicles"
"Percussion DVD: Parking Lot Drums"
The best way to experience drum corp is to either be in one or to attend a competition live. Audition and competition information are found in the following websites:
Drum Corp International
The Cavaliers Official Website
Drum Corp Wiki