Munchie Mondays: T's Birthday Banana Muffins with Peanut Butter Chocolate Icing
Yes, I know this is another early Munchie Monday post as it is Friday, however, today is my Darlin Hubby's Birthday! He turns 31 today and except for the increased man-fur, looks pretty much the same as when I first met him nearly 9 years ago. He's out with my brother watching
Beowulf
in 3-d at the moment. Meanwhile, I've been whipping up a batch of his favorite muffins.
I figured after the movie, T and Jbro will probably want something nice to munch on anyway.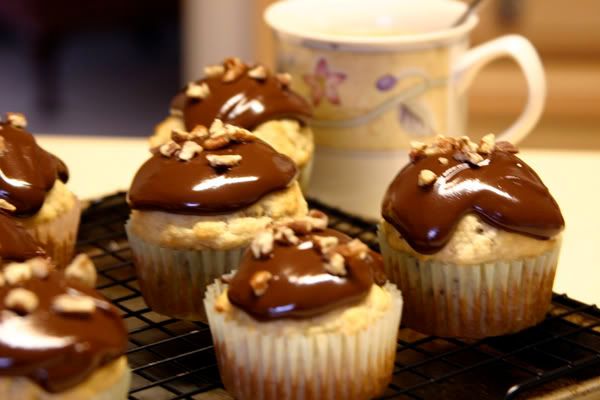 I can't take full credit for the recipe as it is derived from a banana muffin recipe in
Betty Crocker's Cookbook
, which incidentally was a gift T's Mom gave him ages ago right before he was to head off to college. The intention was to give him a simple guide to cooking to encourage him to acquire good eating habits as a bachelor--ya know, to not consider Ramen, potato chips and peanut butter straight from jar as a full meal. I'm not sure how much use the book he received because by the time we got married (which was some 6 years later after he acquired the text) the spiral bound volume was still pristine. ..however, *I* got a lot of use out of it. The recipes in there work as a perfect base to add/change/tweak into your own dishes which is what I've done here.
The muffins from this book are obscenely easy to make.
T's Birthday Banana Muffins with Peanut Butter Chocolate Icing
makes 12
3 mashed ripe bananas
1 egg
1 tsp vanilla or maple extract
1/3 cup of light brown sugar
3 tbs of vegetable oil
2 cups of Bisquick
1/2 cup of pecans (plus extra for garnish)
Peanut Butter Chocolate Icing
(you will have leftovers)
2 cups of dark chocolate chips
1/2 cup of smooth peanut butter
1/3 cup of whipping cream
Preheat oven to 400 degrees.
Line muffin tin with muffin paper or grease lightly with shortening (I suggest muffin cups because these muffins are light and fall apart easily).
Whisk bananas, eggs, oil, vanilla extract and brown sugar in a bowl. Gently fold Bisquick flour and pecans into wet mixture until just moistened.
Do not overmix.
Otherwise, you'll get a heavy batter. Spoon mixture evenly amongst the 12 muffin compartments.
Bake for 15 minutes or until golden brown.
Meanwhile, prepare the icing.
Place chocolate chips and peanut butter in a sturdy bowl (glass or ceramic is best as it conducts heat). Heat whipping cream over stove while whisking to aerate the cream. When steamy got (but not boiling) pour over chocolate chips and peanut butter. Continue to beat mixture with whisk until chocolate is melted and everything is well incorporated. It'll be the consistency of a thick pudding.
When muffins are done, remove from pan and cool on a wire wrack.
Spoon icing over the tops and garnish with pecans (or sprinkles, or coconut flakes...or nothing at all). Ta da! Done!
Labels: aging, bananas, birthday, bread, chocolate, Munchie Mondays, pecans, recipe