Munchie Mondays: Moroccan Parsley Salad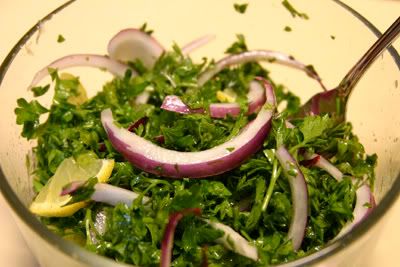 Do you seriously put sliced lemon, pith and all into this salad?
I get that question all the time and yes, you do and yes, it tastes just fine. I'm referring to a fairly typical Moroccan salad whose predominant ingredients are parsely and lemon. Sometimes you'll see this type of salad with chunks of sardines in it, but I decided to go without. Instead, it makes a great accompaniment with fish due to it's fresh and strong flavor.
Because the skin of the lemon is eaten, make sure to select unblemished fruit, preferably organic and unwaxed. Parsley can be curly leaf or flat (I like flat more but did not have any one hand). Don't worry too much about exact measurements. As long as you've got more parsley than lemon, you're good to go.
Moroccan Parsley Salad
serves 4
Ingredients:
1 bunch of parsley finely chopped
juice of 1 lime
1 lemon (1/2 juiced, the other half cut into paper thin slices skin and all)
1/3 cup of red onion thinly sliced or finely chopped
1 clove garlic crushed
3 tbs of olive oil
pinch of black pepper
1/2 tsp of salt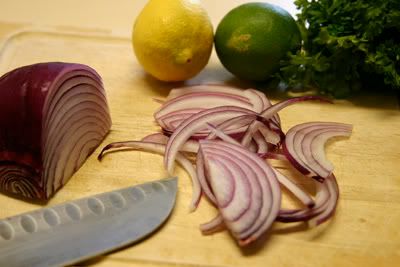 In a small bowl whisk citrus juices, olive oil, crush garlic and spices together. In a larger bowl lightly toss parsely, onion and lemon slices. Drizzle dressing on top and gently toss. Let sit for 30 minutes either in the refrigerator or at room temperature to allow flavors to mingle. I personally like this salad at room temperature. You can store it in an air tight container for up to a day.
This really good on a hot summer day with grilled or fried fish (course, it's hailing outside like crazy as I type this...)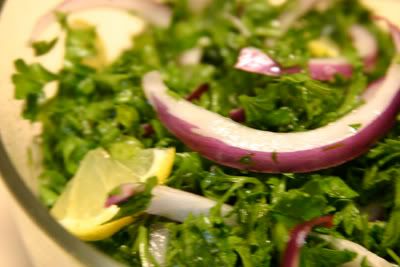 Labels: Munchie Mondays, recipe, salad