Munchie Mondays: Cindy's Peach Pie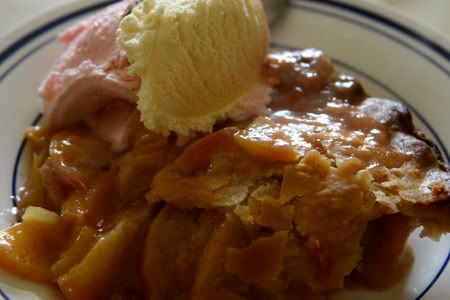 It's peach season in Texas right now and I've got to say this year is a pretty decent batch.
Texas peaches
tend to be smaller and more fragrant than their usual grocery store counter parts (normally from California) with a pinkish yellow flesh speckled with red that comes off of the pit easily ("free stone). Despite the size their flavor and flowery aroma is really unmatched compared to other peaches I've had.
For this recipe I like to use lime juice instead of the typical lemon juice because I feel like it really enhances the flavor. I like my peach pies on the tart side, so feel free to increase the sugar content up to an additional 1/3 cup if you want a sweeter pie.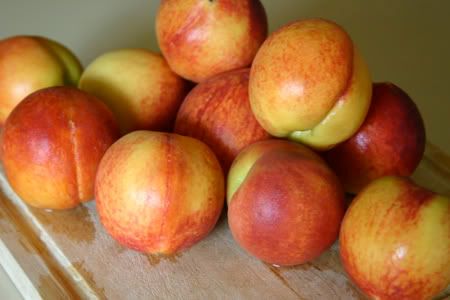 I like to mix up super ripe peaches with those that are under ripe (they still tend to be sweet) for mouth feel purposes. Also, don't worry about peeling them. If you slice them thin enough the skin gives a nice color to the filling
Cindy's Peach Pie
(serves 8...although I ate half a pie myself)
Ingredients:
2 prepared pie crusts (one in dish, one to cover)
5 cups of thinly sliced peaches (or about 10-12 small to medium sized fruit)
1/3 cup of whole wheat flour
1/3 cup of firmly packed brown sugar
1/4 cup of granulated sugar
juice of 1 lime
1/4 tsp cinnamon
1/4 tsp nutmeg
pinch of salt
1 tbs of butter
Instructions:
Preheat oven to 425 degrees Fahrenheit.
Slices peaches thinly (1/8 inch of thinner) into a large bowl. Immediate squeeze lime juice over peaches and toss gently to prevent browning.
In another bowl, mix wheat flour, sugars, spices and salt thoroughly. Sprinkle over peaches and toss gently so that peach slices are covered with sugar mixture.
Add the pie filling to one of the prepared pie dishes ensuring that peach slices are lying flat or packed in rather firmly. This'll help the cook the filling more evenly. Dot with slivers of butter.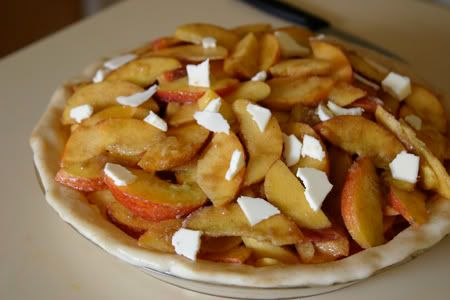 Cover mixture with another pie crust. Seal and flute edges and cut ventilation holes into top crust.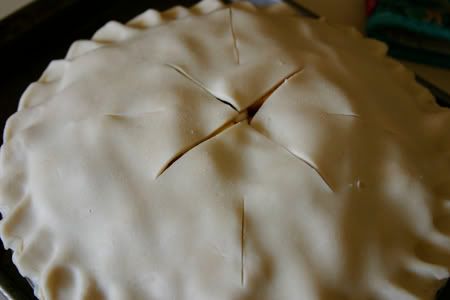 Place the pie into a preheated oven and bake for about 1 hr or until the juices are bubbling out of the top crust. I suggest placing the pie plate on a cookie sheet for this reason. By the way, you
should
put strips of aluminum foil on the fluted edge and remove 20 minutes prior to finish, but I just always forget. If you make the fluted edge thick enough, it won't burn too badly.
This goes really well with a scoop or ice cream or a doused in half and half.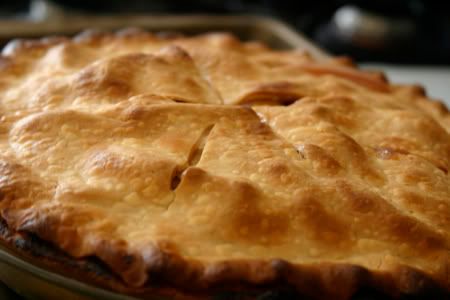 Labels: Munchie Mondays, peaches, pie, recipe