Adzuki Bean Pod #3 is up!
Oh my! Yes, I figured there just are't enough podcast featuring predmoniantly classical music, let alone those featuring mainly males with high voices, so I decided to make my contribution. :)
Adzuki Bean Pod #3: "C is for Countertenor, Castrati and Choirboys (oh my!)"
If you don't know what I'm talking about, head on over to the sister site for tracklistings and artist information. You can also subscribe to an RSS feed from there:
Adzuki Bean Stash Pod Cast
If you're still doubtful, think of it this way...How can you say no to guys who look so happy?
So flamboyant?
So cute?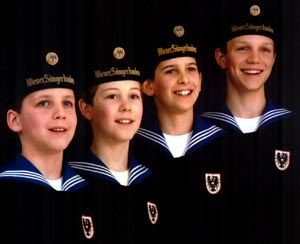 Other links worth checking out:
Interview with Gerard Corbiau
(about the movie Farinelli and technical challenges on creating his voice)
Videos of Ewa Mallas Goldewska
The Counter Tenor Pages
(awesome site)
I talk about the term
coloratura
briefly in the podcast because it is related to the theme. If you can only take your baroque singing in really small doses or if you don't believe despite my freakishly deep speaking voice that I'm actually a soprano, here's a clip of me performing Vivaldi with my ensemble, the Musical Chairs (yeah we all sound a little hungover...).
Listen to:
"Nulla in Mundo"
(Rehearsal June 2000)