Tim Brace: Music for Solo Guitar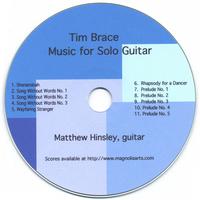 Tim Brace is another person I work with who is a regularly performing musician. With a BFA and PHD in ethomusicology, it's no suprise that music is a large part of his life. He is an expert in Ancient Chinese Music and spends free time composing classical guitar pieces. He is also music director over at
Hyde Park United Methodist Church.


In the past, Tim has taught the infamous
History of Rock and Roll
course at the
University of Texas at Austin
and was faculty with the
High School for the Performing Visual Arts
in Houston, TX. Music runs strong in his family. His son, Conor is currently a jazz performance major at UT and his daughter, Erin, plays flute.
Listen to:
"Rhaphsody for a Dancer"
"PRelude No. 2"
(written for his son, Conor)
Visit:
Buy Tim Brace's CDs at CD Baby
Magnolia Arts