Damn taxes and "sugar and spice" Trent
Ugh. This weekend was rough. First of all, I've decided that I really am old. Staying up past 10 was close to an impossibility for my husband and I. I remember back when I was a college kiddo, parties started at around 10:30 pm and didn't end until dawn. However, the real badge of adulthood is having to do freaking taxes.
I was appauled to find out that we owed yet another couple grand. What is up with that? We were extra careful to make sure we claimed as few exemptions as possible this year, gave to various charities, AND we each have IRAs, but nope, it didn't make one freaking difference compared to last year. Last year, we were shocked to have to owe so much since we just bought a house and a car, but my participation in contract work was what really screwed us over. I should point out that the particular type of form I needed to use wasn't mentioned in our software package, hence I got fined on top of the extra hundreds of dollars I owed for miscalculating. Even worse, they charged me freaking interest for taking their sweet sorry ass time 6 months after the time we turned in the taxes. Arrrrgh!
There's no excuse this time around. Hmph. What kills me most is when you read up on exemptions on the IRS website, they admit that the forumla for withholdings just doesn't work when both spouses are working and one should just expect to pay up. Go figure.
Now, both our dads have this amazing ability to cheat on taxes. "It's completely legal" my dad often says. True, however, he sure is bending the rules. I've got the creativity to do it, but my husband is so freaking afraid of getting audited that he is incredibly heasitant to write off anything. Seriously, we would not have highspeed internet if it wasn't for work. Our new printer? Shit, that's work related...never mind that I use it to print out CD labels every now and then.
Speaking of CDs, I made two of them for my friend Jodi who is a college DJ in Amherst, MA the other day. There's was an interesting radio show called "The Ongoing History of New Music" by Alan Cross a couple of months ago and I managed to get a nice rip of it. The subject matter: Nine Inch Nails. Most of the content I already knew, but it was still entertaining nonetheless. It was a good primer on the history of my favorite musician of all time and I figured that Jodi (who is a new fan) would benefit. What I liked was that the guy played some songs that weren't in high circulation like "Right Where It Belongs" from the new album as well as pre-NIN era and live bootleg tracks. I fleshed out the breaks in the radio show with some of my favorite NIN tunes and packaged everthing up for her. I also got carried away with the cover art. Since the show was sorta divided into the whole "old Trent" vs. "New Trent" theme, I went with it.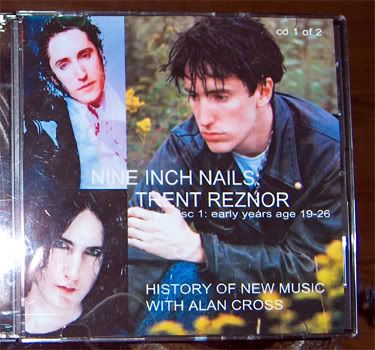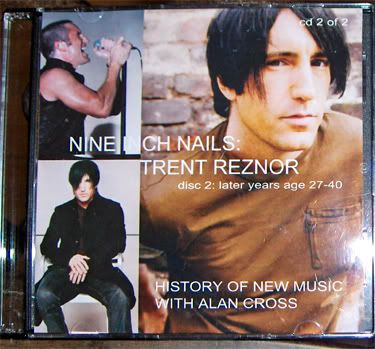 The funny thing was that when I was working on the "Later Years" CD, I really agonized over what pics to put on there. It's no secret that a bunch of photographers are photoshopping the hell out of Trent these days. Frankly, there's no need to. He looks fine, but somehow people just want him to look exactly the same as he did in the Downward Spiral era. I'm not going to argue that he wasn't absolutely beautiful back then, but he was also my age (gosh, a little younger even). I like a man who ages gracefully and doesn't mind getting older. And maybe
he
doesn't mind, but the photographers sure do. I suppose a light touch up on the crows feet is okay every now and then, but when his characteristic chasm in the middle of his brow ridge dissappears, you know they've gone too far. The man is in his 40's for God's sake. He will not have the complexion of a baby's ass. I didn't even know that Mr. Reznor had a light smattering of
freckles
across his nose bridge until I met him in person. At the same time, unless it is a live action concert pic where he's sweaty, grimy and buzzed cut, there are so freaking few press pics of him that I actually like that don't ooze too much
machismo
or look like a fucking
perfume ad
. What I'm saying was that I had a hard time finding something easy on the eyes, mellow and honest that still looked like Trent in his 40s...with nice hair.
However, the real issue came up when I made the CD art itself: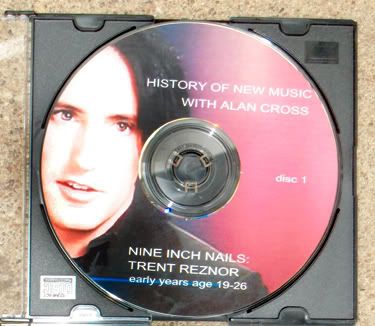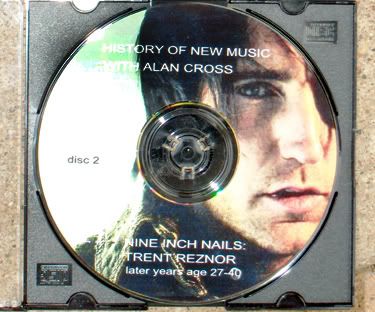 My husband:
I don't like that pic. He looks like a kitten. Soft and fluffy and sugar and spice like.
(pointing at the CD1--young Trent)
I suppose it does look like butterflies and stars are about to fly out of his ass. Either that or he's the good witch of the west saving viewiers from MTV.
He's almost cuter than you. That's just, er, wrong. *cough* I'm gonna go finish taxes now...
I can't quite figure out what is wrong with that pic, but it was the youngest face shot I had in high enough of a resolution that would work. Furthermore, I wanted a complimentary color to the predominant greens of CD #2. That meant either going with red or dark pink. Well, dark pink won. (I'm a little obsessive with color theory). However, I think it's his eyes that get to me the most in that pic, especially compared to the image on CD #2. Yes, they're pretty. That's a given, but he seems so much more alert and enthusiastic. Not as jaded seeming. Makes me wonder if he's suffering burn out at times.
Although I'm sure he never does his own taxes.