Oh the power of google...and dolphins
Ha! Thanks to
Sarah
I got a stat counter for this blog since I wanted to prove to her no one else read it but me, her and a couple of friends. Well lo and behold, I saw someone found this page via "seaweed and weeseed." It was my brother!!!! Mr. Johnny Luck himself. He was kind enough sign up for a logon simply to provde clarification on the post about him:
Oh no! I googled 'weeseed' at Eric's request and this is what I see (he knew of this blog). Deception and embellishments abound! Yes I do love dolphins and like stuffed ones the best. You did not get a snake, you got sunglasses, mom brought seaweed home 2 or 3 months prior to weeseed coming home because she wanted to eat the happy meal. Also, I never won a bike, it was a 500 dollar gift certificate to Addidas, and also an Anna Kournikova workout tape (part of the Lycos.com promo). Playstations had not been released yet, and I was in the 7th grade. It was a SEGA game gear. You were in high school at the time. I did not vote republican in any election year I voted Libertarian. My rifle was named DEENA and I sold it for 80$ more than what I bought it for the other day. I am not a prude as I am made out to be, since I want to own a tata-bar in Dallas within 4 or 5 years-cant have republicans fooling with my TABC license.
Apparently I fucked up on a few details, but note, he won a $500 gift certificate instead of the new bike AND a Anna Kournikova workout tape. Sheesh, I thought that was in addition to the new bike. Sega versus Playstation. Boy, life is tough.... For the record, he did purchase a rather lovely hoodie for me using the gift certificate. Also, getting sun glasses in my happy meal instead of a stuffed snake compared to Johnny's dolphin is an even more depressing version of my story (and I don't think Mom ever liked eating happy meals, J-luck).
When I confronted bro about this, he answered with a string of e-mails:
seaweed and weeseed are super furry now that i washed them.
so white on thier bellies too...so suprisingly clean!

i was showing eric how wierd google is on IM...and i said id try weeseed...and this is what i see.

poor weeseed...he was called a lass.
oh no...
i am a lucky guy
why just the other day i thought itd be nice to win one of those big
animals in the claw game at D and B and I got one!
But i'd call that skill.

Notice he didn't deny the close-to-fetish fascination with dolphins. I ought to get him a new little one to mess with the close knit family. There's also Dexter the huge one that squeeks and a medium sized momma dolphin. There needs to be a little girl dolphin in the group for Seaweed and Weeseed to fight over.
By the way, here's a pic of one of the alledged dolphins. I believe this is "Weeseed" given that he's not as old looking. He's lying next to, Missy? Deena? I don't even know the name of this handgun.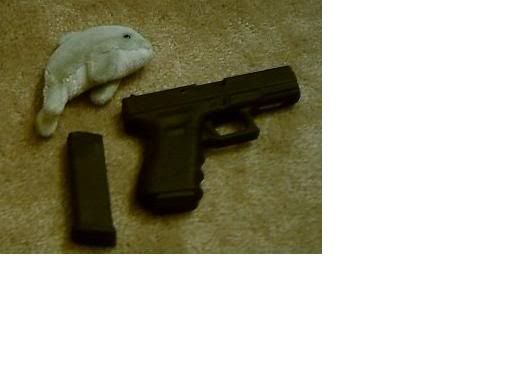 Well, that's my dolphin post of the day